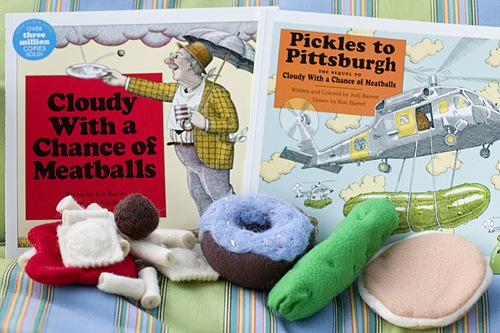 I loved this book when I was little and had no idea there was a sequel until I bought the original earlier this summer as a gift for one of my son's friends. For those who haven't read it, it's a tale of a town where all the food falls from the sky. (It's also been turned into a movie recently but the plot appears to be quite different).  I decided (the night before the party of course) to make some felt food to go with it, hence the odd assortment pictured above.
The meatball and ravioli are needle-felted. The ziti is wet-felted, made by wrapping wool roving around a pencil. The donut, sauce and pickle are made out of acrylic craft felt, though the frosting on the donut is needle-felted wool.
I've made a ton of felt food in the last year or so, mostly as gifts for my son, his friends and young relatives. I bought some fantastic fruit patterns from Bugga Bugs, and for other items I've just made things up as I went along. I even made one of my favorite desserts – a chocolate éclair – which became proof that even if you don't let your 4-year-old son watch television, he still will turn everything into a weapon. "Really?" I asked him. "You're going to shoot me with a chocolate éclair?"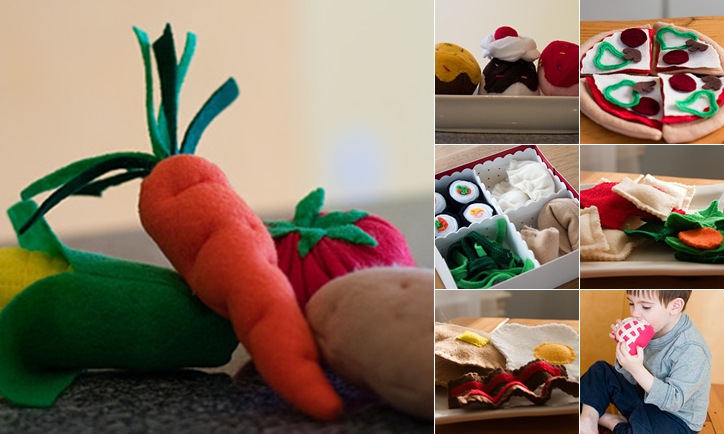 Check out the article I wrote for AP about felt food in my tutorial page above, along with a how-to on making felt sushi.