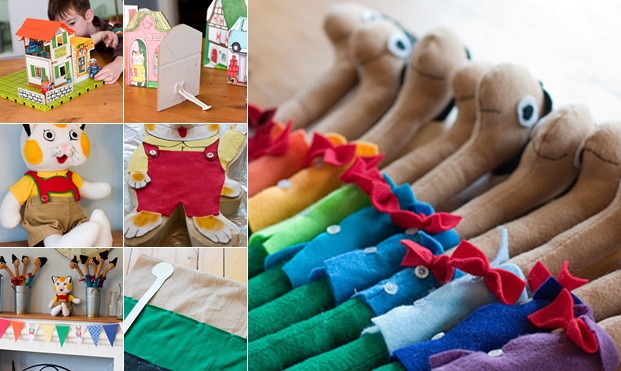 (It appears that clicking on the image above no longer brings you to a gallery of images, so I've posted them below)
My son has been smitten with Richard Scarry's Busytown characters since June, when he picked up two of his books while we were on vacation. They were in Italian, but that didn't matter. He poured over them for hours, including about half of our plane ride home from Rome. So we decided to make Busytown the theme of his 5th birthday party earlier this month.
The amazing Huckle Cat cake is entirely the work of my food-editor husband. It was a super-moist, dense yellow cake (FOUR DOZEN EGGS), covered in buttercream and decorated with fondant.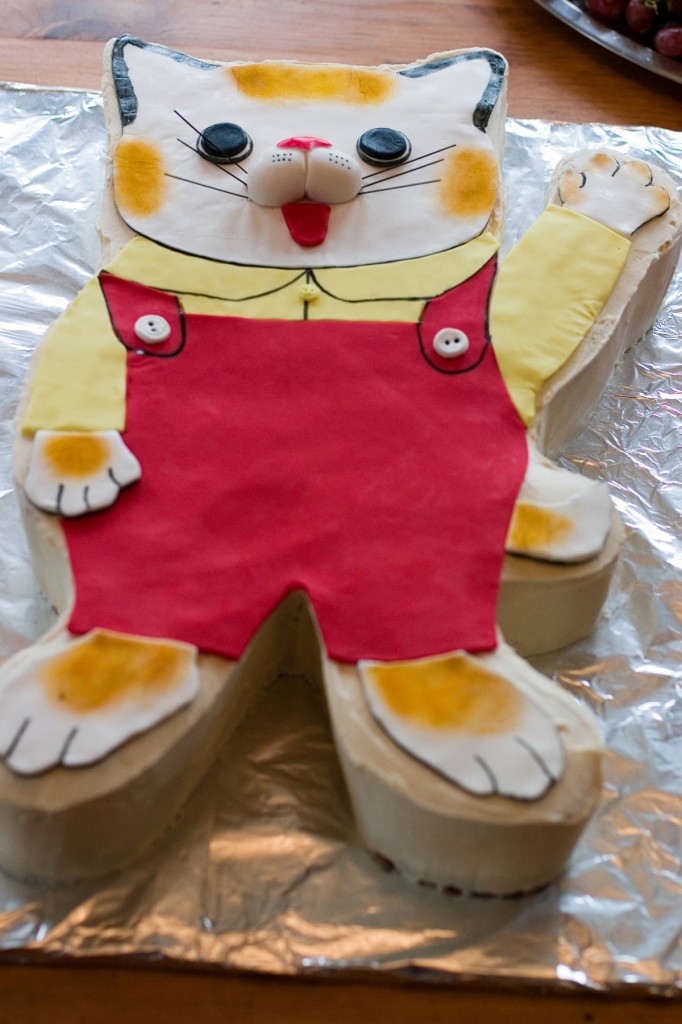 Meanwhile, the stuffed Huckle was my project. I started with a pattern for a baby doll, added the ears, tail and nose and lengthened the feet. The pattern included a little shirt, which I altered a bit to look more like Huckle's. The pants are a modified version of an American Girl doll clothing pattern!
I bought a used but perfect copy of the out-of-print "Richard Scarry's Biggest Make-It Book Ever" on eBay and scanned various pages to make the invitations and decorations. It also included the pattern for the Lowly Worm dolls I made as favors, though I came up with my own construction method to streamline the process since I was making so many. Rather than cut and sew 10 bodies, 10 pants and 10 shoes, I sewed long pieces of tan, green and grey felt together, traced the pattern 10 times, cut in between and then sewed on the drawn line. That part went quickly but I admit that by the time I got to all those buttons and bow-ties I was pretty sick of the whole project.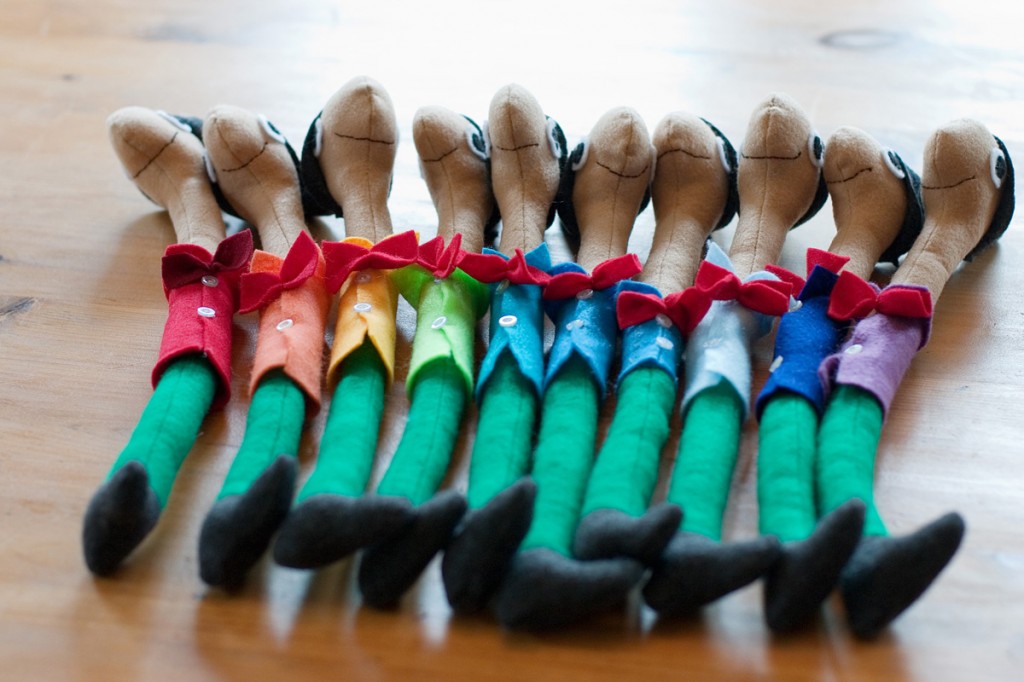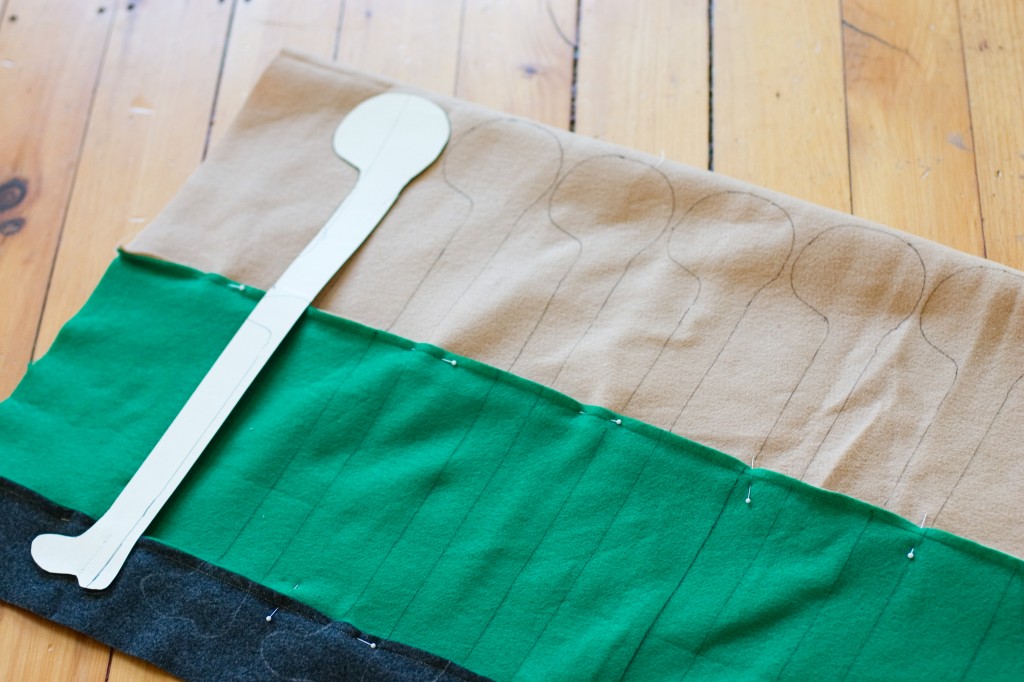 I had grand visions of sewing a cute bunting but ended up just cutting triangles from leftover scrapbooking paper and some more images from the "Make-It" book. I strung them together by sewing a piece of ribbon across the top of the triangles.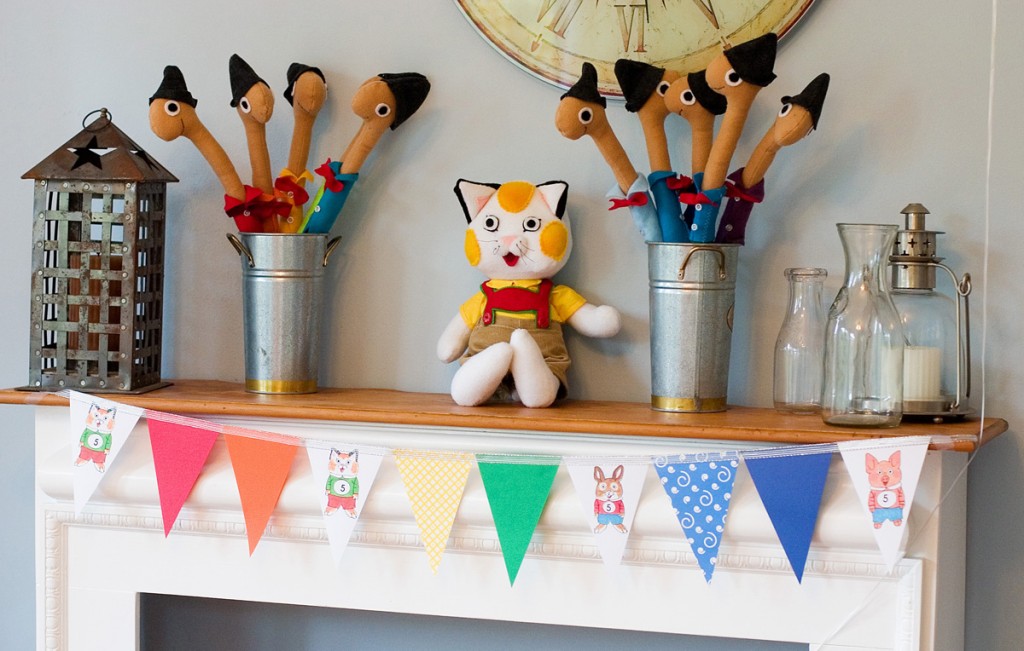 Parker's main present, other than the stuffed Huckle, was another eBay find: a 1976 "Puzzletown" set so he can build his own Busytown. We came up with what we thought was a great idea: scanning more pages from the "Make-It" book (which included cutout images of various Busytown buildings) and attaching them to fiberboard to make extra pieces. My husband used a jigsaw to cut out all the pieces, but the fiberboard (actually a piece of paneling) was just a hair too wide to fit in slots on the Puzzletown base. Had we realized that earlier, we probably could've sanded the edges, but since I already had glued the pictures on, we stuck plastic stands (cut from cabinet child-proofing devices) to the back so they could be free-standing. I think this idea would be great to do with other books, or even using a child's own drawings. You could cut a notch at the bottom of the pieces and use another little piece of fiberboard for a stand.
Here's a picture of the 1976 "Puzzletown"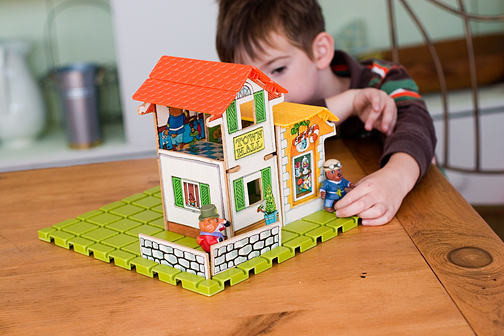 And here are the new pieces we made: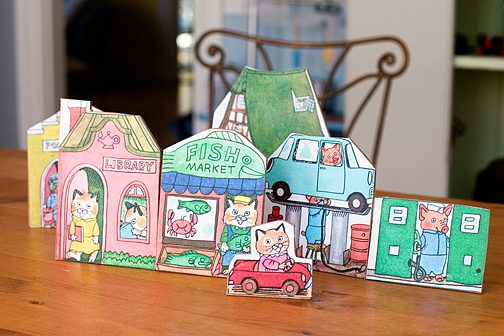 All in all, it was a great success! Huckle has bumped all other stuffed animals from their usual spot at bedtime, and even has been going to kindergarten this week.
UPDATE: Please do not ask me to share the Lowly worm pattern. As mentioned above, I found it in a book and am not comfortable sharing it. But I am sure if you look at a picture of Lowly, and my picture of how I traced the pattern, you can figure out that he is basically a long rectangle shape, with a rounded top for a head and an oval-ish shape at the bottom for his foot.