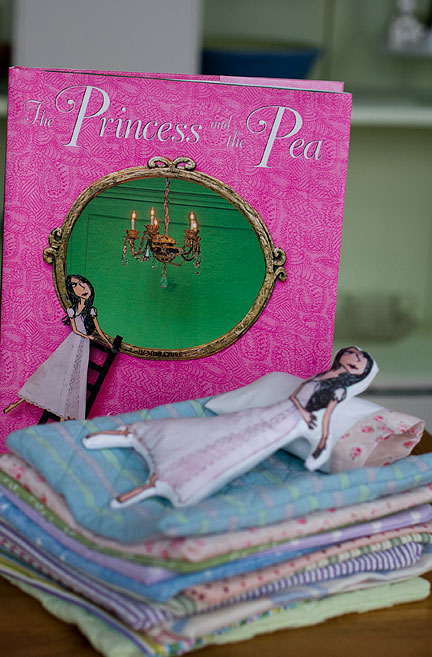 Tomorrow I'm giving the last of my Christmas gifts to my cousin's four little daughters and their baby brother. The baby is getting the color book I made back in October. The girls are getting cupcake and ice cream charms I made last month and this Princess and the Pea book and play set I finished this morning. (the advantages of not seeing them until after Christmas!) I've been wanting to make a set like this since seeing Amanda Soule's version.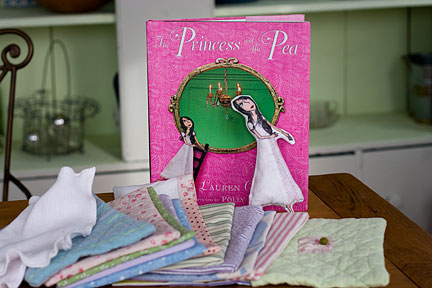 The book is by Lauren Child. To make the doll,  I scanned the picture from the front cover, removed the background using Photoshop and printed it on iron-on transfer paper. I used fabric I already had for the mattresses and used thin batting in between the layers. I think if I were to make this again I'd use thicker batting but overall I was pleased with the result. Two of the mattresses are made from pre-quilted fabric I had leftover from another project but for the others I didn't bother doing any quilting. The blanket is cut from an old thermal blanket that was my son's when he was a baby (and I will admit, even though he is now five and I am not having any more babies, it was a little sad to cut into it. Even though I still have several more.) Hemming the raw edges had the unintentional but pretty effect of creating a slightly scalloped border.
The pea is wet-felted. I can't remember where I saw the idea to make a little pocket in one mattress for the pea, but it is a great one. The little pillow case is a tiny simplied version of my pillowcase tutorial found on my tutorials page.