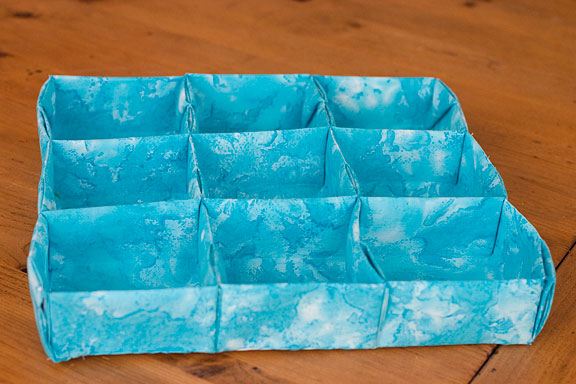 I bought my friend and fellow-crafter One-Yard Wonders for Christmas, and she has been gracious enough to share it with me when we get together to sew! I think I might have picked the most complicated project in the book to start, the Origami Organizer, but 1) it just leaped out at me as a cool project and 2) it was written by Katherine of One Inch World, who was very helpful to me when I had no idea what I was doing setting up this blog!
I used some leftover fabric that I wasn't crazy about for my first attempt, just in case I messed up. I found some of the diagrams a bit confusing, but once I figured it out, it was pretty amazing to see the boxes come together all at once.
I gave the organizer to my son, who is forever sorting little treasures he picks up and putting them in various boxes.