My son decided yesterday that 6:23 a.m. was the perfect time to go through his clothes and "find the stuff that doesn't fit and use it to make clothes for my critters," (i.e., stuffed animals). While I have yet to provide Fat Kitty, Skinny Kitty or Huckle with any new clothing, I did go through his clothes, find the stuff that doesn't fit and turn some of his shirts and new-and-improved versions thanks to this tutorial by Betz White that I have been meaning to try for a long time.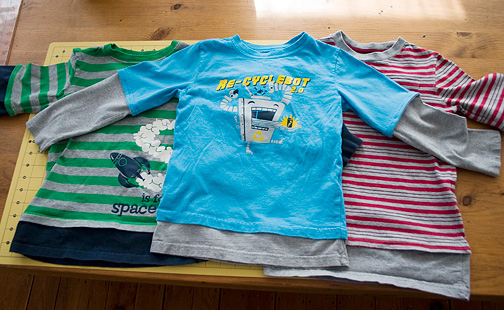 Transforming two  long-sleeved shirts into one faux-layered shirt was surprisingly easy. Part of me thought, "Is it really worth it to save shirts that I probably spent $4 each on at Target and could just pass along to my nephew?" But there was something very satisfying about this project, and I can always hand the shirts down once he outgrows them a second time.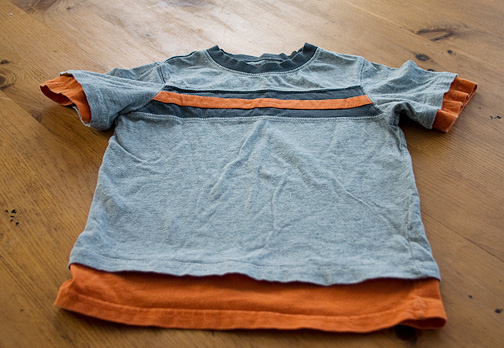 For the short-sleeved shirt, I used two short-sleeved t-shirts (duh) and used the technique for the bottom hem on the sleeves as well, since I wanted to keep the original hemmed sleeve of the outer shirt. Very easy!