I realized at 9 p.m. last night that my son has a playdate today with a friend who 1) sent him a very nice gift basket after his recent surgery and 2) turned six last week. So my husband suggested I "craft something up" to give her.
I quickly settled on this stuffed pig from "Martha Stewart's Encyclopedia of Sewing and Fabric Crafts." (Look for my AP review/article next week). I've been saving this pink thrift-store sweater I felted for a while and figured it would make a cute pig. It did, though I found it pretty hard to work with since the sweater is so thick. The directions call for a 1/8″ seam allowance, which was all but impossible given how thick the wool is. I would've been better off cutting around the pattern a bit wider and then trimming the excess later. There also was no way I could sew the extremely narrow tube to make the tail and then turn it right-side out, so I just kept the seam on the outside.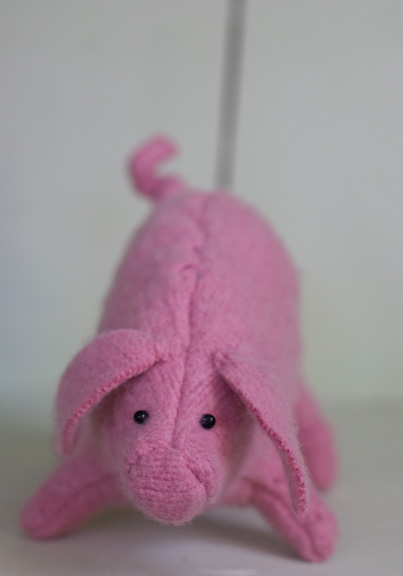 I love the fuzzy wool, but I think this project also would be cute in fleece or even cotton quilt fabric. Or maybe a thinner sweater.