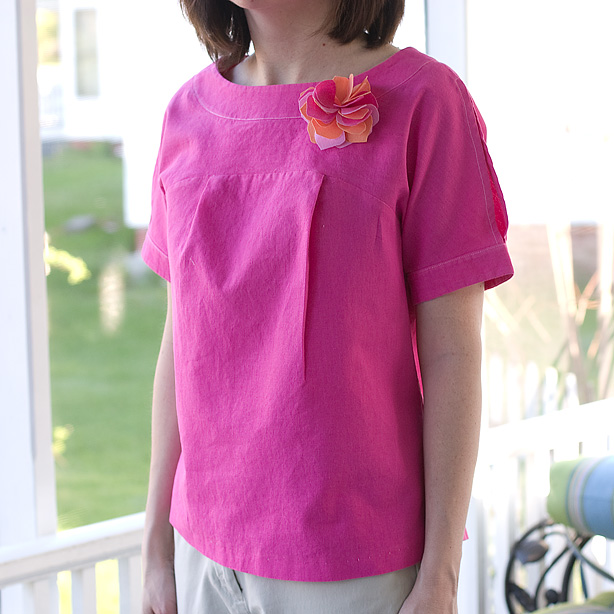 Just in time, I finally finished my entry for Spring Top Week at Made By Rae. I made Simplicity 2922 out of a linen/cotton blend and then dyed it. This is the first top I've ever made for myself (or anyone for that matter), so you'd think that would be enough of a challenge, but I had to make it about 100 times harder. That might be an exaggeration, but you know how sometimes you get to a point in a craft or sewing project when you consider just throwing it out? This project was full of such moments. Here are but a few:
1) With "These are a Few of My Favorite Things" running through my head, I cut out the front, yoke/sleeve, neckband, armbands and facings out of some fabric I had leftover from making curtains, only to realize I didn't have enough fabric for the back.
2) I somehow managed to sew the neckband to the ARMPITS. I know that's hard to imagine, but the pattern calls for sewing  the yoke and sleeves first, then adding the neck to the top and the rest of the shirt to the, so I accidentally flipped the yoke over. And sewed it even though it didn't quite fit. And then trimmed the seam and ironed it. THEN noticed the mistake.
3) When I tried it on before hemming it, my husband poked me in the belly and said I looked pregnant.
4) I realized I should've dyed the fabric first, because I didn't use cotton thread, and now the white stitches show up on the bright pink fabric. They're not neat enough to look  like I did it intentionally as decorative topstitching.
BUT… on the bright side, I successfully used the blind stitch function on my sewing machine for the first time! (Of course, the "blind" stitches are blindingly WHITE, grrrr) And I figured out a cool way (I think) to keep the edges of the fabric flower from fraying and give the petals a bit of stiffness. I've seen several tutorials that call for using some kind of spray, but I don't have any and didn't really like the idea of spraying some kind of chemical sealant on the petals. Then I saw this project in the latest issue of Martha Stewart Living, which calls for printing out little clipart flowers onto iron-on transfer paper and then transferring them to fabric. So I figured, why not use a flower outline (Martha has a bunch of templates on her site), print it on iron-on transfer paper and go from there? The transfer paper leaves a clear coating on the fabric but it's barely visible. The great thing about this technique is that you don't have to trace the pattern because you're printing it right on the fabric.
I really want to be the kind of person who can pull off wearing a huge flower pinned to a shirt like these lovely poppies at Grosgrain. But apparently I'm not quite ready for that, since I didn't dye any big scraps of fabric, so I went with a small-ish bloom instead. But it's on a pin so I may remove it and re-do it.
Would I make this pattern again? Maybe, slightly smaller or in a different fabric. I'm not crazy about the slits in the sleeves, but the pattern also includes gathered or plain flat sleeves. I might try the dress version. I ended up chopping about 4 inches off the bottom of the tunic because I'm short, and it just didn't look right. I also took Amy Karol's advice and made pleats along the yoke instead of gathering.
**UPDATE: I wasn't surprised at all that my top wasn't a finalist because there were so many amazing tops. But I was thrilled that Carolyn at Sycamore Corner Crafts took the time to list it among her personal favorites! It really boosted my spirits after such a frustrating sewing experience, and I now have a new blog to read!