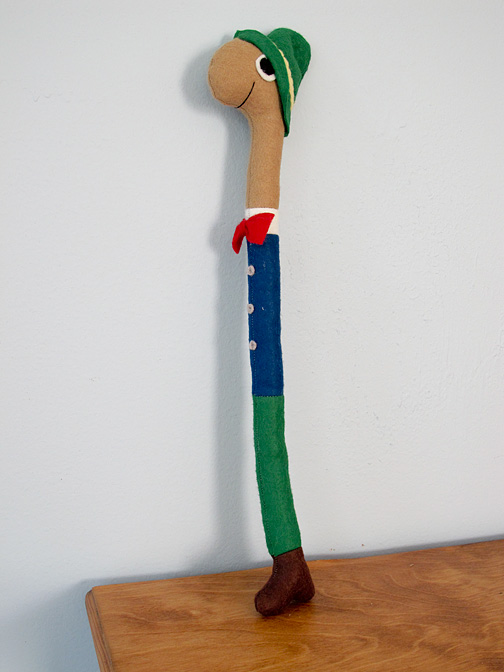 Here is my offering for Giveaway Day at Sew, Mama, Sew! I had no idea when I posted pictures from my son's Busytown birthday party last fall that there were so many Lowly Worm fans out there! This version is a bit of an upgrade from the Lowlies I churned out 10 at a time for the party. Those were made with inexpensive acrylic felt. The new version is made with a wool-blend, and I've streamlined the design a bit to make his coat part of the body instead of a seperate piece.
For those of you who AREN'T Lowly fans, I'm offering an assortment wool felt scraps.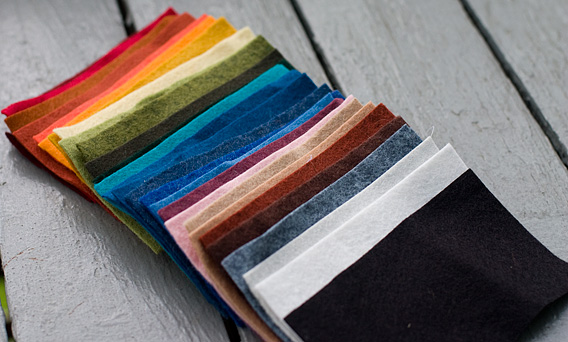 There are 28 pieces, all different colors, and all cut to 3X5″. These would be great for small applique projects, or the little ornaments I made for my son's advent calendar.
Here's a different options to win:
1) Simply leave a comment specifying which item you want: Lowly or the felt scraps. (make sure it includes a way to contact you) (If you already commented when I was just offering Lowly (before 11 a.m. Monday) and you win, you'll get both. Otherwise, I'll pick two winners)
For extra chances, do any of the following (in seperate comments if you do more than one):
2) Leave a comment telling me you follow my blog. (either longtime readers or brand new!)
3) Leave a comment describing some kind of 4th of July craft or sewing project idea, either something you've made, seen elsewhere or would like to see.  I write a craft column for The Associated Press and need to come up with something that will run in June, usually I look ahead to the next holiday/season.
4) Check out my talented husband's blog: jmhirsch.com. He is the national food editor for The Associated Press, and has a cookbook coming out in the fall. If you'd like, leave him a comment, but it's not necessary. Just tell me you took a peek and will consider going back!
I'll close comments at 8 p.m. EST Thursday and announce the winner Friday morning. I am willing to ship internationally. Good luck!