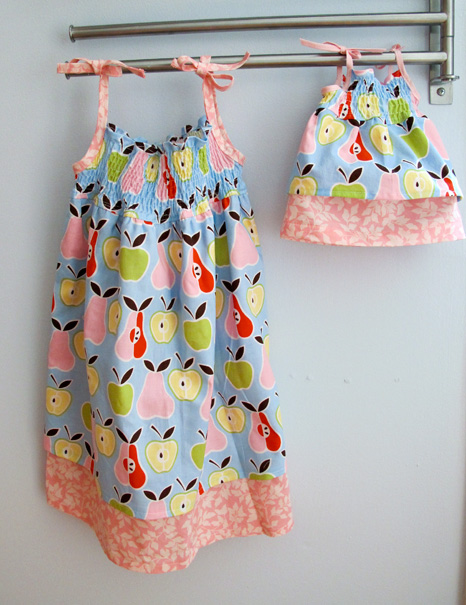 My adorable niece and nephew celebrated their 5th and 6th birthdays last weekend with an outdoor party, water balloons and two cakes: chocolate with Sleeping Beauty on top for the birthday girl and vanilla with Buzz Light Year on top for the birthday boy. I made my niece two sundresses, one for her and one for her American Girl doll, using this tutorial at From an Igloo. It really is an easy dress but for some reason I was having one of those nights when everything goes wrong. First, I sewed the longer skirt piece on top of the shorter piece instead of under it, gathered it and sewed it to the bodice before realizing my mistake. (The only thing I hadn't done was trim the seam and topstitched it). Then I forgot to take the elastic thread out when I sewed the first shoulder tie on. I also had a bit of trouble getting the elastic thread to work correctly for the shirred bodice. I ended up winding the bobbin using my machine rather than by hand like all the tutorials say and it seemed to work. (though my lines are horrible wonky and uneven.)
For the doll dress I just scaled everything down. I had a dress pattern for American Girl dolls I downloaded from the Internet somewhere and used that roughly to measure how wide to make the bodice and how long to make the skirt. The skirt isn't as full as the full-size version because I was running out of fabric.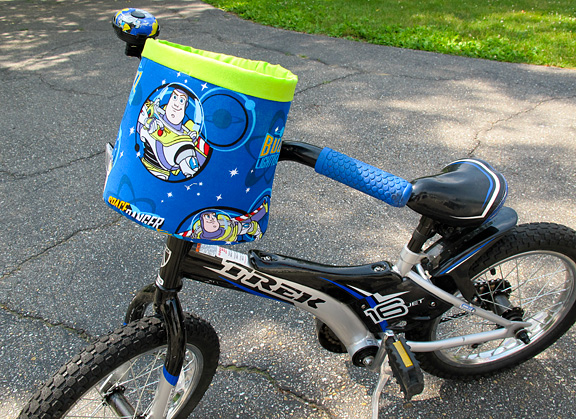 I bought my nephew a few pounds of mixed LEGO pieces off eBay (and ran them through my dishwasher secured in a lingerie bag to sanitize them) and made him a little basket for his bicycle. I used this tutorial at Noodleheads. (I stuck it on my son's bike for this picture.) When I was making the binding strip to go around the top edge I made one folded side narrower because I was worried I wouldn't catch the other side when sewing it on, but I went too far and my stitches on the inside are not even close to the edge so it looks pretty messy.