After suffering two blows to my confidence in sewing for myself (the ill-fitting/ill-fated hand-dyed top and the matronly top), I finally had a long-harbored secret wish come true yesterday: a stranger in the elevator complimented something I was wearing, and I was able to say, "Thanks! I made it myself!"
Unfortunately, I don't have any pictures, but it was very simple skirt I made last summer out of some random fabric my husband had leftover from a food photoshoot. But it was very nice to get the compliment given that 1) the stranger who made it was a very smartly dressed woman and 2) I don't think a stranger has ever complimented any of my store-bought clothes like that.
I also need some advice. In two weeks, we will be going to a big wedding in Washington, D.C. The groom is a fairly big-shot celebrity chef. The festivities include a barbecue lunch and poolside dinner at a nice hotel. The invitation says "summer casual," but I have a feeling that what I would wear for a "summer casual" event here in New Hampshire would not quite fit the bill. Before we got the details, I had plans to make Simplicity 2724 (the version on the lower right, out of a very pretty faux silk charmeuse), and even made a muslin out of a sheet, but now I think that's too dressy.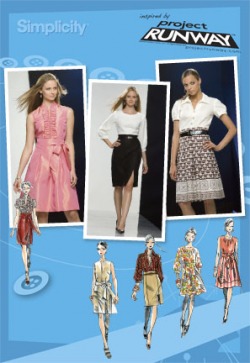 But I'm at a loss. I do have a few yards of Anna Maria Horner's Little Folks Voile in Garden Berry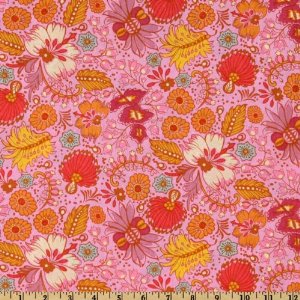 and a Burda pattern for a sundress (I can't find it online, but it has shoulder ties, a gathered bust and slightly A-line, short skirt). I think that MIGHT work for the BBQ, but I'm not sure. Anyone have other suggestions? (head to the mall?)