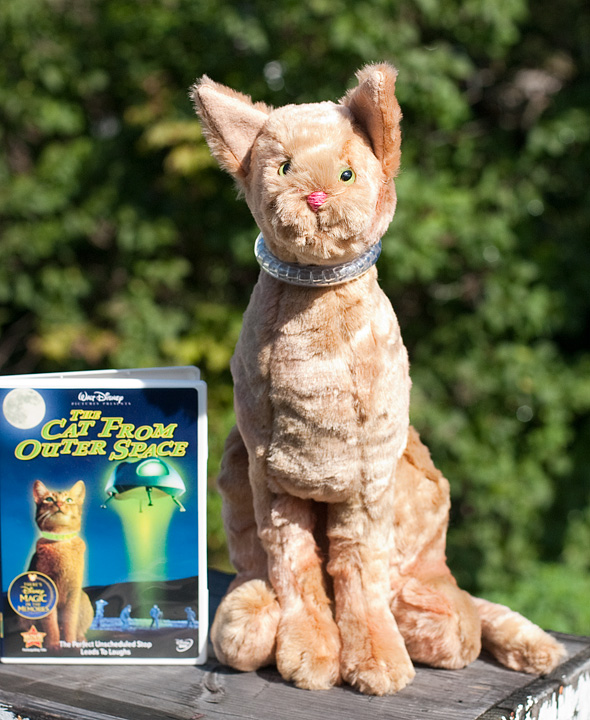 Parker turned six last week, and we celebrated with a small party with just his grandparents, aunt and uncle and cousins on Saturday. I think I was so relieved to not have to make 10 party favors like last year's mass-produced Lowly Worms that I went a little overboard for the three children in attendance (the birthday boy and two cousins). The theme was "The Cat from Outer Space," a 1978 Disney movie my husband enjoyed as a child and Parker has adored since we let him watch it earlier this summer.
Of course I had to make him "Jake," the cat/star of the movie. I found a free pattern for a sitting kitten here by Runo Dollmaker, but that seemed too small and squat, so I enlarged the pattern in Photoshop so it was 150 percent taller. I think I could've gone with a bit less height since the end result is sort of oddly stretched out, but I was just glad all the pieces still fit together fairly well after I tinkered with the pattern. This was my first experience using plastic stuffed animal eyes (hence the crooked placement) and my first jointed stuffed animal (the head swivels).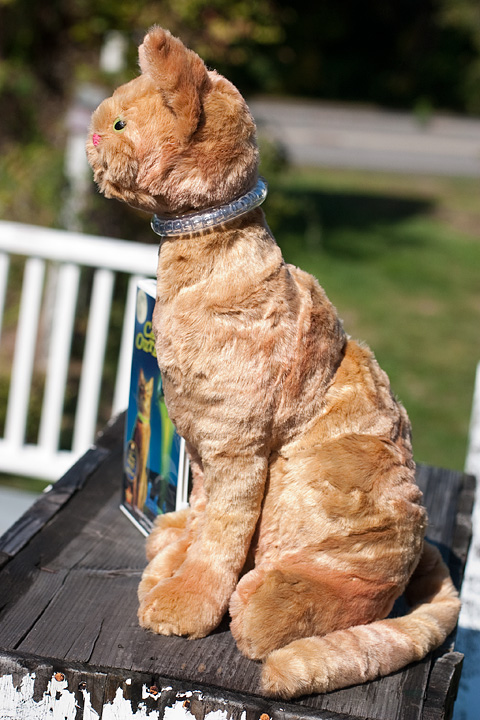 My husband, the food editor, was in charge of the cake. Though he generally does not like to bake, he goes all out for Parker's birthday. (Last year's Huckle cake used 4 dozen eggs!) This year's cake was smaller, but just as impressive to the birthday boy.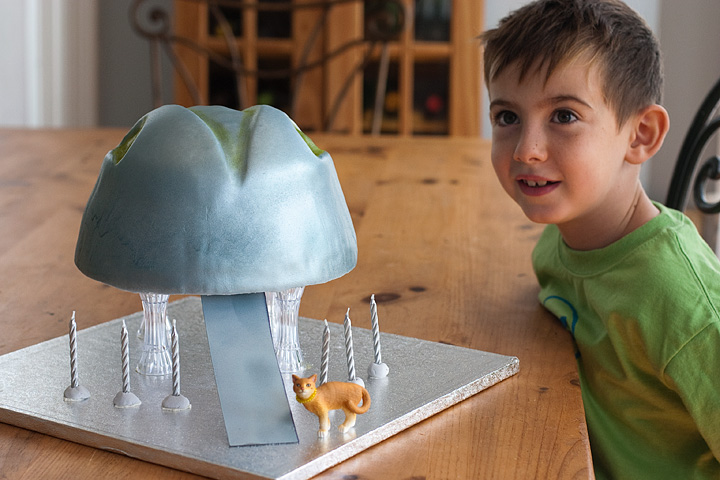 To continue the theme, I scanned the DVD cover and used the image to make invitations, stickers, a garland and a table decoration. I have a large Fiskars Squeeze Punch, I think it is 1.5″ in diameter, that I LOVE. It was so easy to punch out a bunch of circles to make the garland, then I just sewed them together using the sewing machine. To make the cat stickers, I formatted the picture of the kitty in Photoshop to make it the size of the punch, printed a bunch on one page and then punched them out and ran them through the Xyron 1.5″ "create-a-sticker."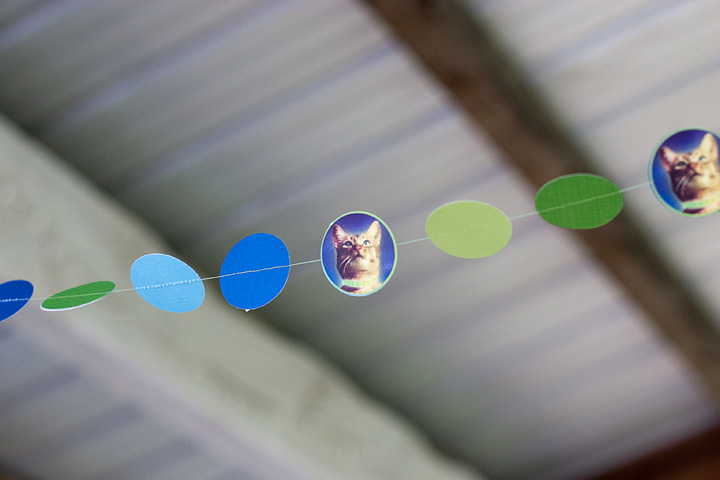 I also made freezer-paper stenciled t-shirts for the kids. I spotted a "Cat from Outer Space" movie poster online that had this cute cat graphic as part of the title, so I copied it and enlarged it to make the stencils for the shirt. I know a lot of freezer paper stencil tutorials say to print your design and then trace it onto to the freezer paper, but I just cut pieces of freezer paper to 8.5″ X 11″, taped it to a piece of copy paper and printed right on the freezer paper. Cutting carefully, I was also able to use the cut-away part of the stencil to make another shirt for Parker using the negative space. (Something to keep in mind if I ever am making 10 of these next year… cut carefully and get two stencils out of one image!)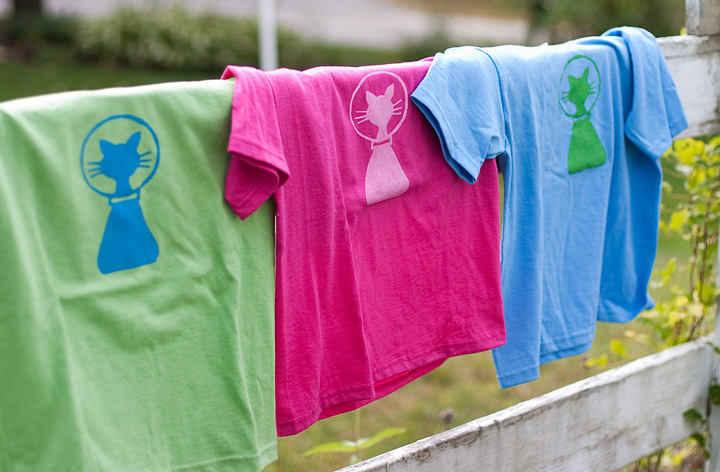 For activities, I made the treasure stones I mentioned in an earlier post, but we called them "alien rocks." Parker helped me pick out little trinkets to hide in them and helped me make the rocks. (the recipe doesn't specify how many rocks you can make with one batch. We made three good sized stones). No pictures, because they were destroyed pretty quickly, but I think they liked them!
We also made sparkly necklaces and bracelets out of the extra vinyl tubing I had from making Jake's collar. There are many tutorials out there, I followed this one at Family Fun, using tubing with a 1/4″ outside diameter for the bracelet and tubing with a 1/4″ inner diameter for the closure. For the necklaces, we used tubing with a 1/2″ outside diameter. These were really fun to make, though the bracelets were a bit trickier because we didn't have a funnel that was small enough to fit in the opening. We improvised by using drinking straws to fill the tubes with water… holding a finger over the top of the straw while it's in water and then releasing it into the tube.
I wasn't sure if the boys would enjoy this but both Parker and my nephew liked it. Surprisingly the bracelets and necklaces haven't leaked, but you could always add a bit of glue to be on the safe side. This is such a cheap craft, the tubing sells for about 22 cents a foot. I'm thinking of getting all the supplies and making a kit for my cousin's four daughters for Christmas.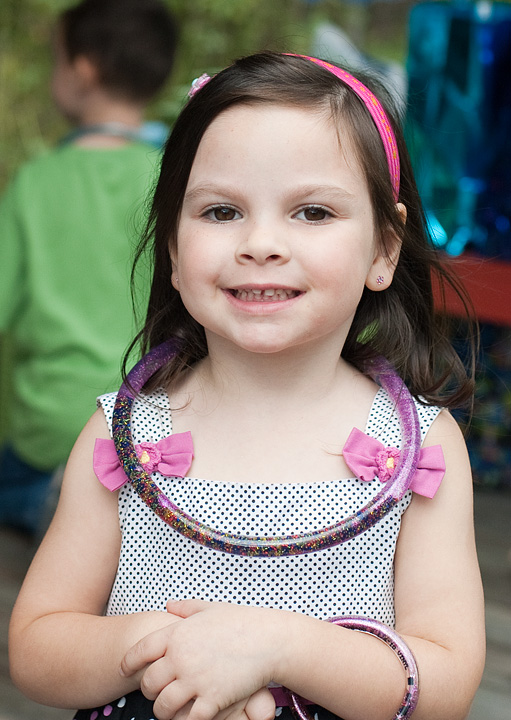 For more projects, check out the inspiring list at: