The fall foliage here in New Hampshire  is spectacular. I hate that it comes and goes so quickly, though, so this year I've been expermenting with preserving leaves. It has not been a particularly satisfying experience! Here's a rundown of techniques I tried:
ironing leaves between sheets of waxed paper, which was supposed to leave them coated with wax. Didn't work at all.
coating dried leaves with Mod-Podge. I saw this technique at Gingerbreadsnowflakes but was put off by the directions to let the leaves dry for a few weeks. Who is that patient? I read somewhere else that you could speed-up that process by ironing the leaves, but I found that really darkened and dulled the colors. But, my leaves seemed plenty dry after only a few days, so I tried this again with a new batch of leaves. The Mod-Podge worked well, but it was time consuming because it takes quite a while to dry beteween coats.
Dipping leaves in wax. I didn't actually try this technique because I couldn't find any wax. All the tutorials I saw called for paraffin, the type used to seal canning jars, but my grocery store didn't carry it, nor did Target or Wal-mart. Then I found some references to using beeswax, which looked beautiful, but again, I couldn't find it. Michael's had some, but it was something like $17 a pound. At that point, I was starting to feel like Beth at Remarkably Domestic, who has been working her way through Martha Stewart's Encyclopedia of Crafts and describes the "fruitless shopping" involved in many of the projects.
So,  I ended up with a rather pitful little garland of about a dozen leaves.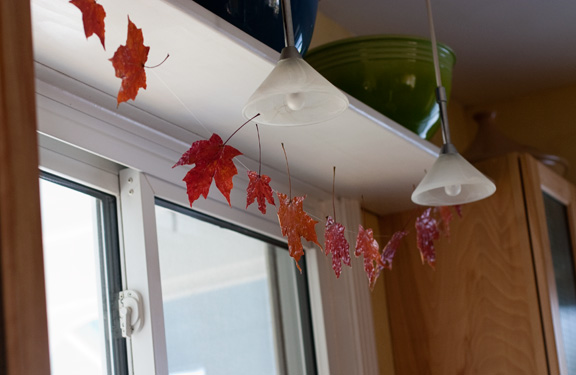 They are pretty, but I'm also quite fond of the newspaper leaves my son and I painted together (got that idea from Maya*Made). Especially when he said to me, "I like these nights when it's dark and we can do stuff together, Mommy."