There are a mind-boggling number of tutorials out there on how to make fabric flowers. I made these recently using a pair of tutorials at Mary Janes & Galoshes, but there are dozens more I'd like to try at Oopsey Daisy. Here are my two cents, in the form of two tips:
1) Many of the tutorials that involve synthetic fabric call for using a candle flame to heat seal the edges. I found another easy and potentially safer method: an embossing heat gun. I bought a heat gun probably 15 years ago when my sister and I used to make stamped and embossed Christmas cards. (You use the heat gun to melt the embossing powder.) I've saved it all these years, and now I'm glad I did! I placed the flower petals on a large tile, held down one edge and waved the heat gun over the edges until they started to curl a bit. I was using rather large petals so wasn't in danger of burning my fingers, but with smaller petals you could always use a chopstick or something to hold the flower in place.
2) I was telling my sister about these flowers and suggesting we make some as gifts for her daughter and other little girls we know. When I suggested adding a pin back to the flowers that could also be pinned to  a  hair band she said, "That would look cute until someone fell and then got a pin stuck in their head." Now, I think you'd have to fall pretty hard and in just such a way to have the pin open and then stab you in the head, but just to be on the safe side, I came up with an alternative.
I cut a circle of felt and a small strip slightly narrower than the width of the pin back. I sewed one end of the strip to the circle, and added a tiny bit of Velcro to both the strip and the circle. (It is a little tricky to sew Velcro to such a small piece of fabric. This would be a good project for the iron-on Velcro.)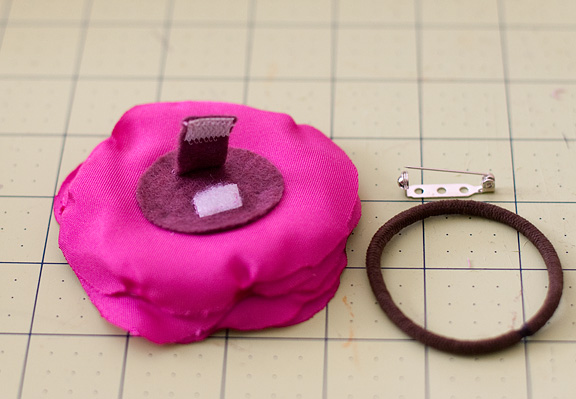 That way, the pin can be slipped under the strip of felt, or a hairband. At this point, I admit it did seem like a lot of work just to guard against the very slight chance of injury. Then I realized that by doing it this way, I could also slip the flower on a headband, which would not have been possible with just the pin back. (Not that I would ever wear a huge flower on the side of my  head, but I would LIKE to be the kind of person who could pull that off. But little girls can get away with that, right?)
(Edited to add: As my clever commenter Katherine points out below, it would be easier to just sew both ends of the felt strip to the circle, making a little loop that could be slipped over the pin or headband, and the hair band could be looped through there as well. Or a bit of elastic, which would be sturdier than a strip of felt. Or forget the extra piece and just make two slits in the felt? Sometimes I make things more complicated than they need to be!)