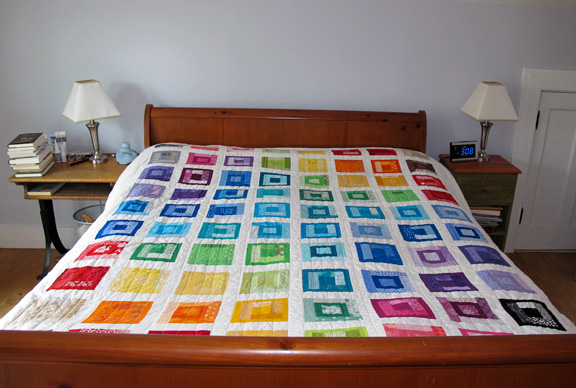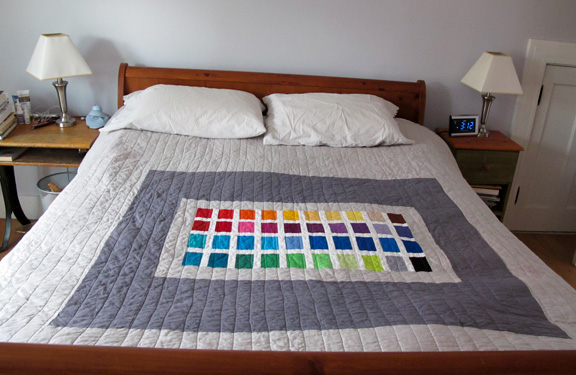 Wow. I can't believe this quilt is finally done. This is the Paintbox Quilt by Oh,Fransson! that I started back in March. I basted it in June (first time using a basting spray. It worked very well. I can only imagine how much heavier this quilt would've been with a million safety pins in it), quilted about four lines in August and then put it aside until Wednesday, when I spent most of my day off doing all the quilting.  My intention was to quilt straight lengthwise lines about 1 1/2″ apart. Pretty quick, I realized that I am not very good at keeping the stitching straight on such a large quilt. But my lines are actually almost crooked enough to look deliberate, and once it was washed and dried everything crinkled up nicely.
The only thing I don't like about it is that once I put my pillows on the bed, it covers up the top two rows, so you don't really get the whole color spectrum effect. I wish I had thought to take that into account.
This is the first queen-size quilt I've made, and the first quilt I've made for my own bed. By my quick calculations, I used 160 different fabrics in this quilt, the vast majority from what I already had. A few friends gave me some of their scraps, and I did have to buy some fabric, but for those I just bought very small cuts of fabric (1/9 of a yard) to keep it affordable. The sashing is a cotton-linen blend.
For anyone considering making one of these, I did spot one error in the instructions. It's not a big deal if you're the type of quilter who likes to start with strips that are a bit long and then trim as you go, but I figured I'd post the correction here anyway. In the directions for making the scrappy-style blocks, it says: "From your 1 1/4″ solid fabric strips, cut pieces in the following lengths: 5″, 6″, 6″, and 6 1/2." But it it should say: 5″, 5 3/4″, 5 3/4″ and 6 1/2″.
Again, not a big deal to just trim off that extra bit, BUT if you follow my method below to preserve more of the solid color "jellyroll" fabric this pattern uses, you need the exact measurement.
The original directions say:
"Begin by trimming the selvedge from your solid fabric strip. From one end, cut a square, 2 1/2″ x 2 1/2″ and a rectangle, 2 1/2″ x 3 1/2″. Cut the rest of the strip into two thinner strips, each 1 1/4″ wide." (the square is for the center of each block. The rectangle is for the design on the quilt back)
But if you want to preserve as much of your 2 1/2″ solid fabric strip as possible for another project, here's another method:
cut the 2 1/2″ square and 2 1/2″ X 3 1/2″ inch rectangle from one end of the solid strip as directed
cut another strip that measures 2 1/2″ X 11.5″
cut that 11.5″ strip into two thinner strips, each 1 1/4″ wide
cut one of the thinner strips in half lengthwise to make two strips each 1 1/4″ X 5.75″
cut the other one into two strips, one 1 1/4″ X 5″ and the other 1/4″ X 6″