I have this week off from work and am determined to finish making most of the Christmas gifts I have planned. I'm already off to a great start, thanks to the weekly challenge at Works in Progress, but I really want to get a lot done this week so I can spend more time just enjoying December. To kick of the week and help get myself in the holiday giving spirit, I'm giving away a copy of "Holiday with Matthew Mead," a 144-page "book-a-zine" full of beautiful holiday decorating ideas and recipes.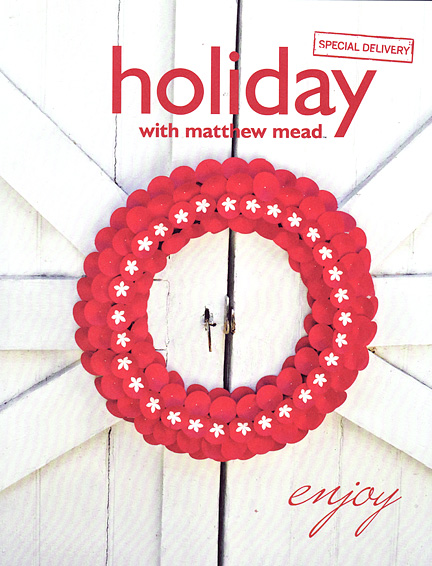 If you read "Country Living" or "Better Homes and Gardens," then you've seen Matthew's work before. We were surprised to learn a few years ago that he lives just a few towns over from us here in New Hampshire. Last year, my husband hired him to prepare, style and photograph all the recipes for his new cookbook and we were thrilled with the results.
You can get one of my husband's new recipes in the holiday magazine: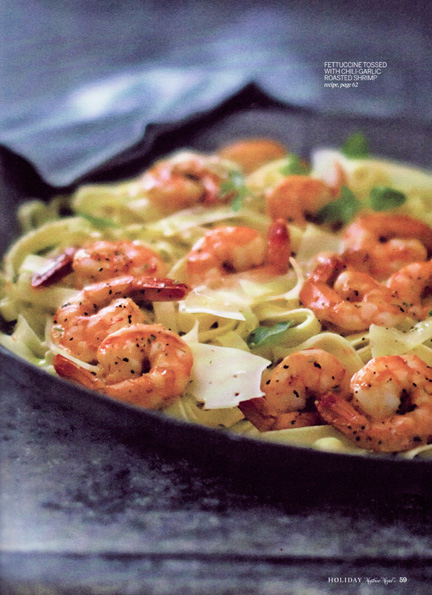 along with page after page of holiday inspiration (there's only two pages of ads). Many of the features focus on one color, which I found really appealing. I think my own holiday decorating can get kind of cluttered. Trying a more monochromatic in various spots look might be the way to go. I was especially drawn to these cute little snowmen: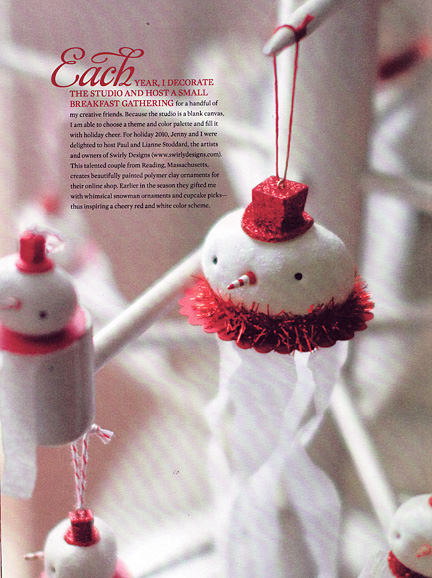 The magazine is only available through the Holiday With Matthew Mead website, or you might win a copy by leaving a comment below! In the spirit of the holidays, there are no hoops to jump through, any old comment will do! But if you're feeling generous, I'm working on a craft article for AP about turning kids' artwork into Christmas gifts, so if you have ideas, please share! Oh! And I am in desperate need of ideas for a handmade gift for my son's (male) first grade teacher. "Teacher gift" ideas tend to be pretty feminine. This guy is an avid hiker and rides a motorcycle.
I'll pick a winner Thursday morning.