I sewed up a storm Monday but I'm starting to feel my energy wane as the week goes on… and it doesn't help that I'm getting a cold. But here's what I have to show for Monday's effort: 24 neck gaiters/neck cozies. Those of you who read my "hidden" holiday blog will know that I made one of these last month and bought enough fleece (at 60 percent off!) to make about 40 more. The plan is to give them to a few of my son's friends for Christmas, and donate the rest to a local charity. They are SO easy to make, and they really come in handy for the cold winters we have here. No long scarf to get tangled in!
I used the tutorial found here at the Gator Project (I'm going to stick with my spelling of gaiter though, after looking it up in the dictionary!), modified a bit because my fleece was only 58 inches wide, and to make a reversible version. So instead of cutting 1 20X20 piece, I cut two 19X9″ pieces and sewed them together, so I was starting with roughly a 19X17.5 piece. (I went with 9″ for the height because 1) it was for a kid and I didn't think it needed to be tall enough to cover his whole face and 2) I could then get more out of a yard of fleece). I found 19 inches (which ends up being the circumference was big enough for my son, but it might be a bit small for an adult. If I tug on this, I can fit it over my head and it is not tight on my neck, though.
So, if you were making them out of one piece rather than reversible, you could get SIX gaiters out of one yard of fleece. I calcuated that if I actually make all 41, I will have spent 62 cents per gaiter. Not bad!
For my son's friends, I'm going to pair each gaiter with a winter-themed book:
Hopefully the recipients will be happier than my little model: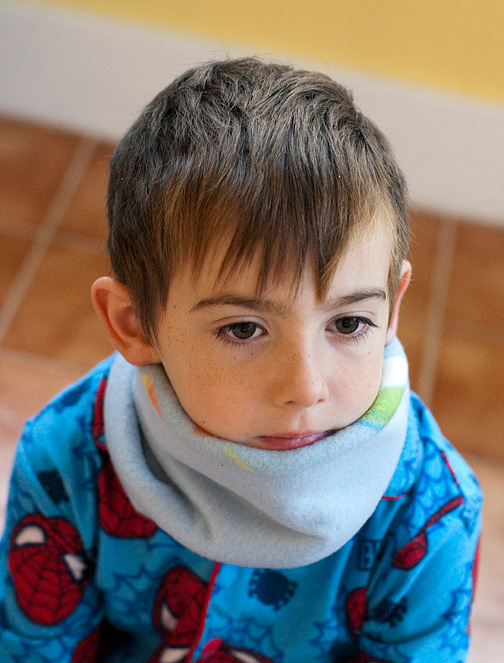 (I know this wasn't posted originally on Monday, but I'm linking to the "Made by You Monday" at Skip to my Lou. Lots of holiday gift inspiration!