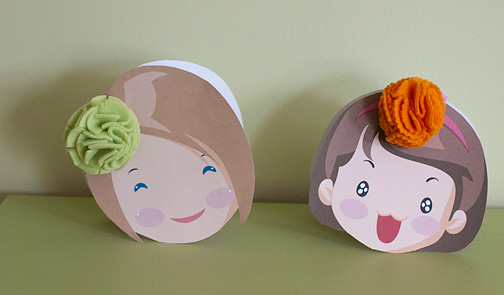 My cousin's four little girls (ages 4-10) have been admiring some of the fabric flower pins I've made in the last few months, so I knew they would like these little gifts. I made them each a flower out of fleece and another out of silky polyster satin and made little sets that included a barrette, pin back, headband and hair elastic so they could interchange them.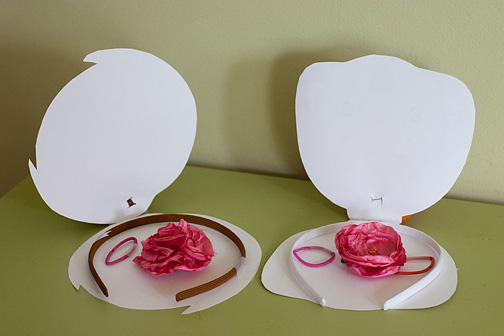 I found these adorable clipart faces at the Microsoft Clip Art website. (I think I searched for "girl face." Here is the image number for one of them: MC900445496. If you search for that, it should bring up one of the faces, and then you can click on "view similar images" to find the others).
I tweaked some of them a bit in Photoshop to change the hair color to match my cousin's girls and then printed the faces on cardstock. I cut around the printed image and did the same on a blank piece of cardstock for the back. After taping the flowers and accessories to the inside, I taped the front to the back along the top  (hidden by the flower on the front) to make a card.
To  make the flowers removable, I cut out small circles of felt and then used my sewing machine to make two button holes, maybe 1/2 an inch apart. This created two slits that they can slide the pin back, barrette, headband, etc., through. (I then sewed the felt circle to the back of the flowers).  As someone suggested in a previous post, sewing a little bit of elastic to create a similar loop would work as well. I happen to have a very easy 1-step buttonhole function on my machine so it went pretty quick.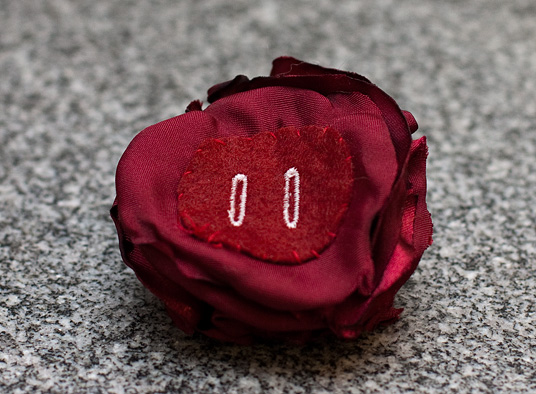 The girls opened their gifts (I also gave them each a neck gaiter) at a family party on Sunday and within a few minutes, they were wearing flowers in their hair and pinned to their dresses, so I think they were a success!