It's almost Christmas Eve… who needs a drink?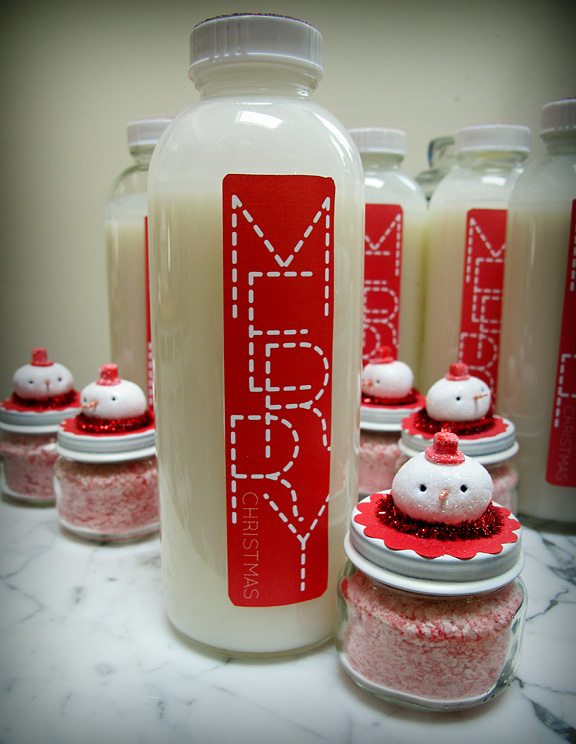 My husband hosted eight of my son's friends for a cookie-decorating party this week. For the adults, he made batches of a "Christmas Cocktail," which is served in a glass rimmed with crushed candy canes. To decorate the jars, I made polymer clay snowman heads that I first spotted in Holiday with Matthew Mead. I was thrilled to see that the very talented ornament makers at Swirly Designs were generous enough to provide a tutorial for making the adorable snowman in a really great free, downloadable magazine: Amy Powers' Inspired Ideas. I only wish I had added eye hooks to a few of the leftover snowmen I have so I could turn them into ornaments. Next year!
The "Merry Christmas" label is a free download at Wee Life, though I altered the colors a bit. The tall jars are from some awful health drink my husband likes. And we have a ton of baby food jars because our elderly cat eats nothing but baby food, spoon fed to her. Poor thing!
Best wishes for a wonderful Christmas!
(and here's the cocktail recipe)
CREAMY PEPPERMINT-COCONUT CHRISTMAS COCKTAIL
Start to finish: 5 minutes
Servings: 1
Ice
2 ounces cream of coconut
1 1/2 ounces light rum
1/2 ounce peppermint schnapps
1 1/2 ounces half-and-half
Fill a cocktail shaker with ice, then add all ingredients. Shake vigorously, then strain into a tumbler filled with ice.