I didn't keep a detailed list, but I estimate I made more than 50 handmade gifts this Christmas, ranging from small ornmanents to a stuffed penguin for my son. There were a few things I never got around to finishing (or starting), but overall, I was very pleased. Starting early (July!) definitely helped.
Most of these gifts already were posted on my "hidden" holiday blog, but in case you weren't a subscriber there, here are some of the projects:
Pinecone Elves (from a Martha Stewart magazine article)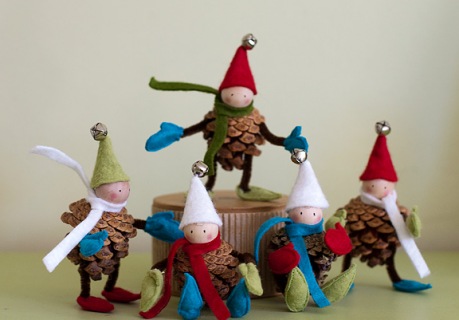 Reversible Fleece hat (the inside is UNC-themed fleece, for my college roommate's little girl). Made using this great tutorial at From An Igloo. And even though the recipient lives in Tennessee, they got seven inches of snow on Christmas!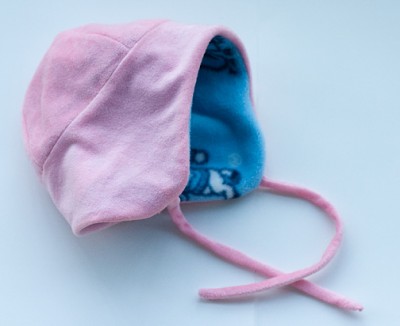 Polymer Clay food charms, from "The Polymer Clay Cookbook." (actually, I forgot to give these away. Next year?)
A set of mini notebooks. These actually were a wedding shower gift for my friend Beverley, the only person I know who loves Anne of Green Gables like I do. So much, that her shower had an "Anne" theme. I wasn't able to attend, but I when I got the invitation, I dug through our very, very dusty storage crawl space to find my box of old books. Then I scanned the covers and made these little blank books for her. Each one is about 3X5″, with 20 sheets of paper. I printed the covers on laser photo paper, which ended up feeling very much like a real book cover. I cut up some old file folders and glued the covers on, and then sewed the books on my sewing machine down the middle. If I had had time, I would've gone out and bought some little notebooks, but once I got this idea in my head I was excited to start it. I think this same idea could be used for all kinds of gifts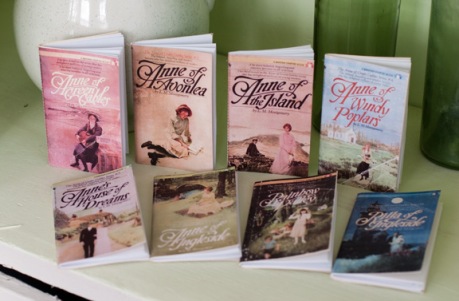 A stuffed stingray. My son loves these two books, and we've given them to several friends for birthdays and Christmas along with stuffed stingrays. I made up the pattern just looking at the picture. There's actually two layers. A muslin inner layer that has some rice sewn into the ends of the flippers to give it some weight, and then the fleece outer cover.
A shrink-plastic "miniature" for my friend's 7-year-old, using a picture of him, to go along with a book about a boy who accidentally shrinks himself. I printed the picture on shrink plastic made for inkjet printers, and used a small binder clip with the metal prongs removed as the stand. Wouldn't these be cute for personalized boardgame pieces?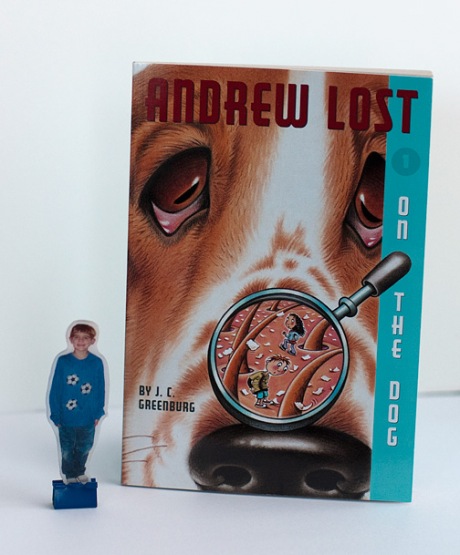 I'm also adding this post to the link party at At Second Street: