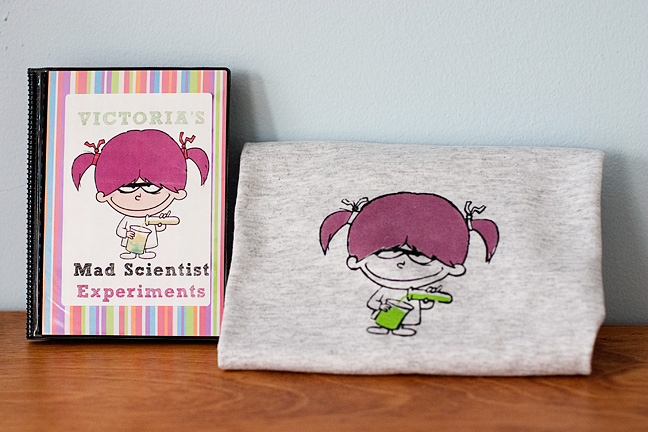 I made this cute t-shirt and "experiment" book for my son's friend, Victoria, who is a fan of the "Franny K. Stein" mad scientiest books. The book is full of easy science experiments collected from different websites and assembled in a great free download at A Lemon Squeezy Home, so all I had to do was print the pages and stick them in an inexpensive photo album.  The t-shirt is painted using freezer paper stencils I created with  my new Silhouette digital cutter.
Confession: I might be the only person in the crafting world who does not love the Silhouette. I WANT to love it, but so far, I don't.
When I first started seeing them pop up on all the craft blogs last year, I was intrigued, and entered probably dozens of giveaways without luck. I then hinted a bit to my husband, and he and my in-laws generously purchased one for me for Christmas. Now, I admit I have not used it a ton, but that is part of the problem. I feel like it is not holding up well despite the limited use it's getting.
Within a few days of trying it out, I was finding that paper I was trying to cut was sliding around the sticky mats, resulting in it coming out of the machine totally mangled. When I tried to cut a page full of intricate snowflake designs, it didn't cut all the way through. Very frustrating. I contacted customer support and was sent a new blade and a new mat. The new blade seems to be helping, but I do think that the mats shouldn't lose their adhesive properties after less than half a dozen passes through the machine. I've read some suggestions about cleaning the mats and spraying them with repositionable adhesive, so I may give that a try.
I do like that you don't have to buy expensive cartridges like you would with a die cut machine (which I've never used) and can pay 99 cents to download designs. You also can use your own designs and images, though there is not much in the way of detailed descriptions on how to do that. By trial and error, I think I've figured out how to take a shape, from say Photoshop, get it into the Silhouette software and cut it out. There is a "print and cut" feature that allows you to print something on a separate printer and then cut it out using the Silhouette. Again, not much in the user manual on how to do this, but I finally figured out that you have to make sure none of the image you're bringing in covers up the registration marks on the Silhouette software screen (even if it's the "white" background).
I haven't tried cutting vinyl yet, but in addition to a few paper projects, I have used the Silhouette to cut freezer paper stencils. After the machine mangled my first attempt, I figured out that it works better to put the freezer paper shiny side UP. Overall, I WAS impressed that I could cut out such a detailed design, which I never would have attempted by hand. What I didn't really realize was that I would have to pick out all those tiny little details and iron them to the shirt, but that wasn't the Silhouette's fault.