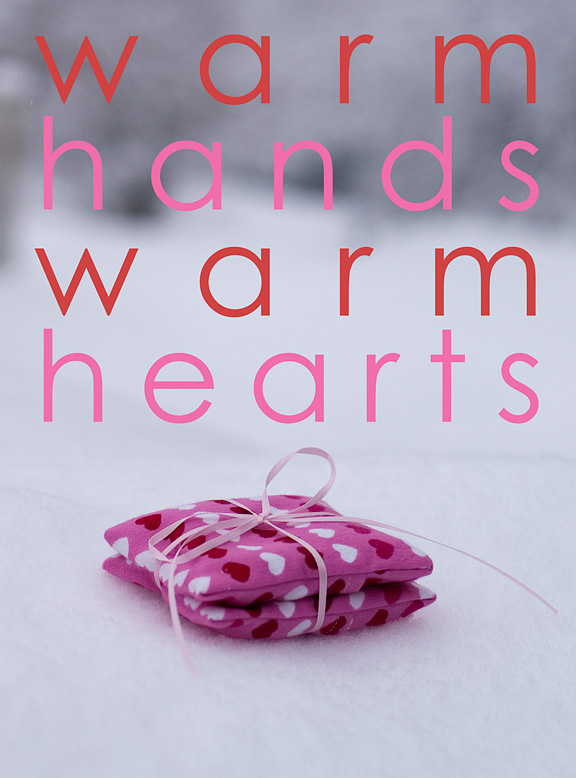 My son started attending a new school in January, one that is very big on outdoor recreation, even — perhaps especially — in winter. They have a ski program, a pond for skating, sledding hills, etc., and they never cancel classes for snow. So I decided to make something that goes along with that hearty New England spirit for his Valentine's Day party: pocket (or boot) warmers. These are little cotton bags filled with rice and covered in flannel that can be microwaved and then popped in a pocket. I'm sure you've seen larger versions (which are great for warming up beds on cold nights!) and there are tons of tutorials out there for making them in all sizes.
This tutorial is a bit different in that I tried to find ways to streamline the production process to make a lot at once. This is ideal for making them for a class party, but also for stocking stuffers at Christmas, or if you just want to have a bunch extra on hand. I bought flannel on sale for $2.50 a yard, and it takes less than 1/3 of a yard to make five pairs of pocket warmers. It would be even cheaper and faster to just use the flannel to make the little beanbags and not bother with a cover, but I know how grubby my son gets even playing in snow, so I figured a removable, washable cover made more sense.
MATERIALS: (for 10 pocket warmers, or 5 pairs)
1/3 yard cotton flannel
1/4 yard cotton muslin or any cotton fabric
white rice (4 tablespoons per bag)
INSTRUCTIONS:
1) Cut a piece of flannel 10″ wide X the width of fabric (usually 42-45″)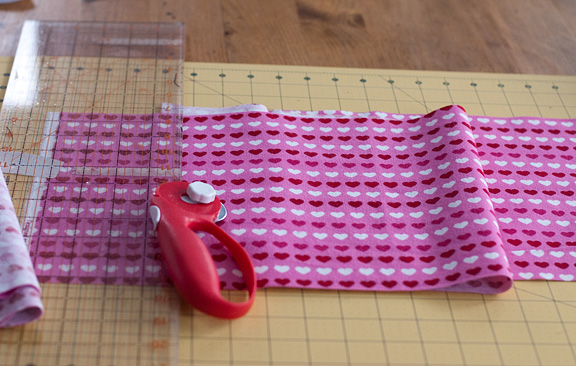 2) Fold the right side of the fabric over 1/4″ along both long edges and press. Fold over again, making a double fold hem, and press.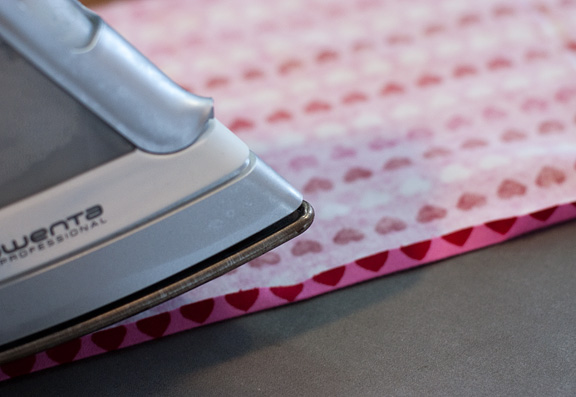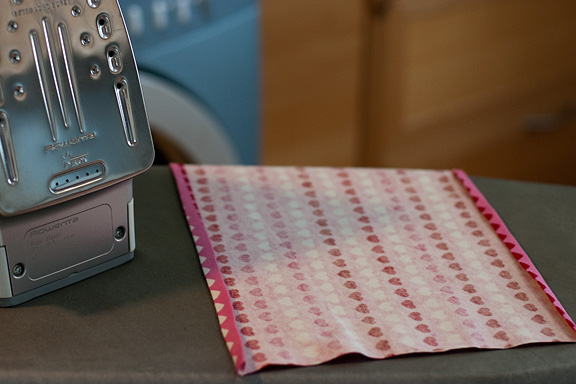 3) Sew along both hems close to the folded-over edge.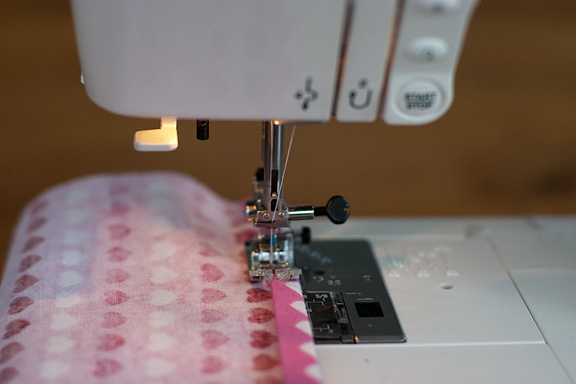 4) With right sides together, fold the fabric lengthwise, overlapping the hemmed edges by about 1/2″, so you end up with a strip that is about 4″ wide. Place a few pins to hold the hemmed edges together, and then press along the folds.
5) Cut the folded strip into 4″ wide pieces.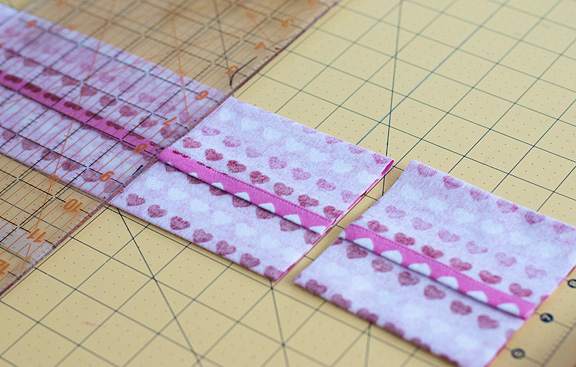 6) Using a 1/4″ seam allowance, sew along the short sides of each piece. Chain piecing (feeding the pieces through the machine one right after another without stopping to cut the threads) makes this step go faster, just remember to backstitch at the beginning and end of each piece.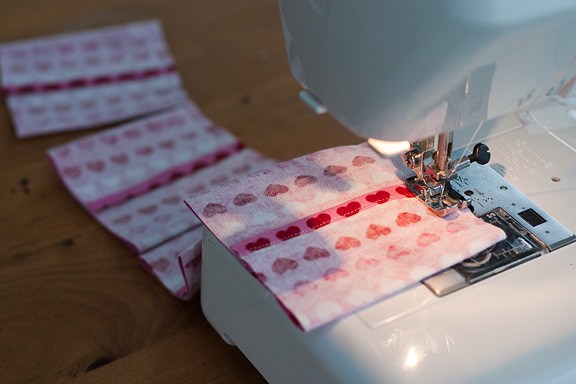 7) Trim the seam allowance with pinking shears to prevent fraying.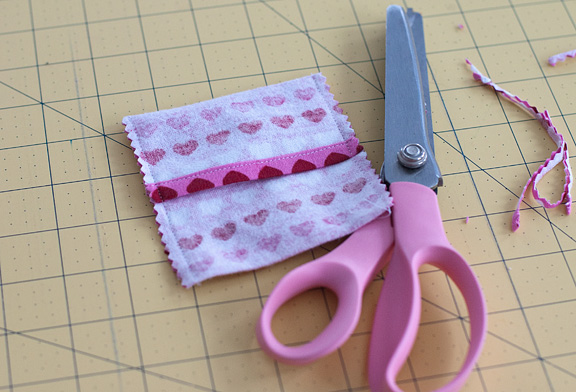 8) Turn the cover right-side out.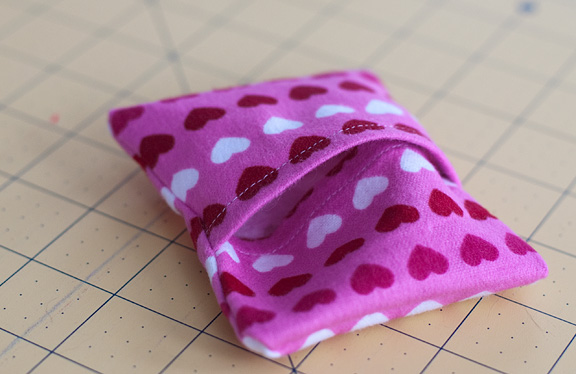 9) To make the insert, cut a piece of muslin or other cotton fabric 7″ wide X the width of fabric.
10) Fold the fabric in half lengthwise and press. Then fold down each raw edge toward the outside 1/4″ and press. This will make it easier to close up the bags of rice later because you're creating a folded-under edge that will become the top of the bag.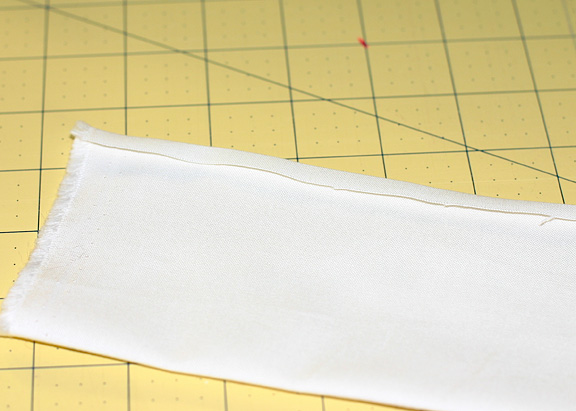 11) Cut the fabric into 4″ lengths and then sew down the two sides, chain piecing them to save time. You should end up with a little bag, with the open side having the folded-down edges.
12) Turn the bags right-side out and fill with 4 T. of rice. Push the rice down into the bottom of the bag and pin it shut.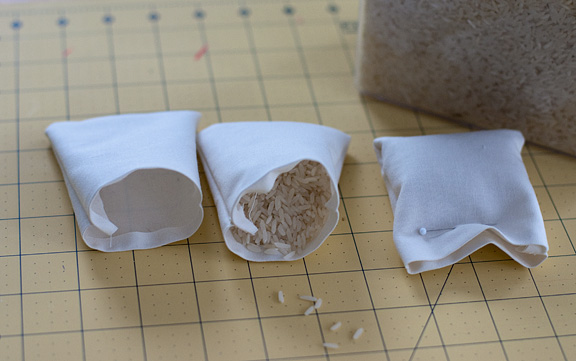 13) Sew across the open edge of each bag, then insert it into the cover.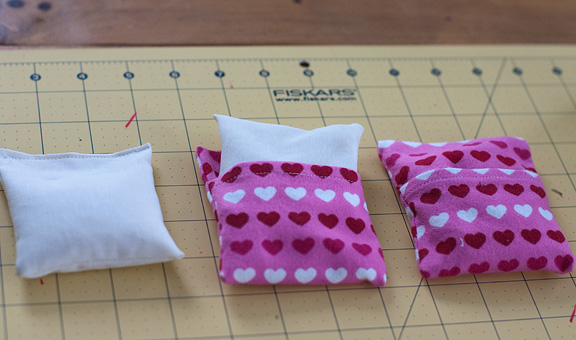 Of course, no self-respecting first-grade boy would be caught dead carrying around a little pocket warmer decorated with hearts, so I had to make more masculine versions as well. I used some leftover John Deere flannel for some, and this cute (yet boyish!) print, which has skiing and snowboarding designs.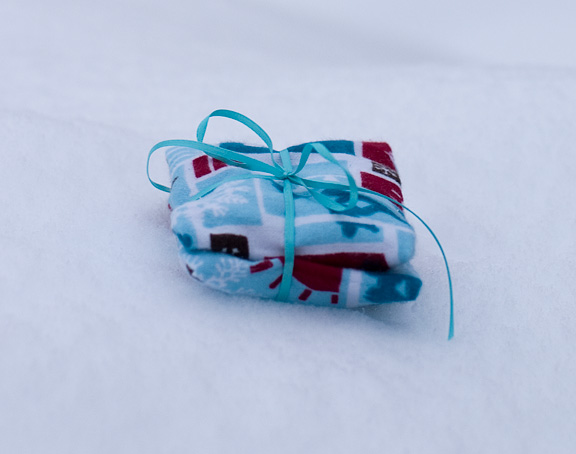 (You'll have to imagine the cute little tags I was planning to make using my Silhouette machine. I tried last night to use the text feature to make a heart-shaped tag with heating instructions that I could then run through my printer and then the Silhouette. Except for some reason, the Silhouette software would not let me type the letter 'e.' Infuriating! It wasn't my keyboard — I could type it fine in any other program.) Anyway, the tag will say: "Heat in microwave for 20-30 seconds. Flannel cover can be removed for washing. Do NOT wash inner bag of rice."