My husband looks like a big fluffy Muppet, and he is SO happy about it.
Background: He always reads before falling asleep, but his arms, shoulders and neck get cold because he wears t-shirts (and refuses to wear long sleeves). So he had been wrapping a blanket around his shoulders but that apparently was unsatisfactory because it slipped around and he always had to adjust it. (And he looked like an old lady wearing a shawl, at least in my opinion)
So for his birthday last week, I made him a fleece bathrobe, with all but the shoulders, arms and chest cut off. Sort of a combination shrug/Snuggie. I used Simplicity 5931, size large. The sleeves came out HUGE, like huge enough for one of the cats to crawl in next to his arm, but my husband actually likes that. The only large piece of fleece I had on hand was this bright green color, hence the Muppet-esque result.
But, he LOVES it. So much so that every night since his whole face lights up when he comes up stairs and remembers it's there. Seriously, it makes me doubt whether he really ever liked anything else I've ever given him since I've never seen this kind of reaction from him.  
Unfortunately for you, he would not let me photograph him wearing it.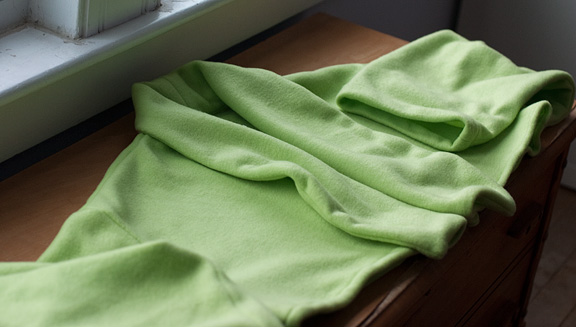 In other news, here are my completed pocket warmers, ready to be sent in to school for my son's Valentine's Day party. I tested one of them out this morning, and it stayed warm in my coat pocket for about an hour. (click here if you missed my earlier post with the tutorial).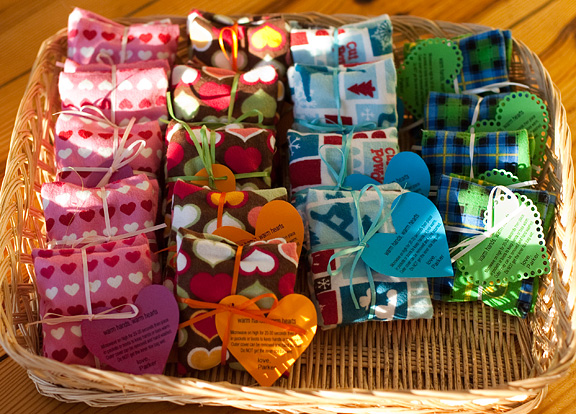 In making the tags, I still couldn't get the "e" to work in my Silhouette software (apparently others have had this problem, too) so I cut and pasted the text from Photoshop. I had planned to make all the tags fancy like the green version, but gave up after having to manually finish punching out about half of the little holes. First-graders are not worth that kind of effort!