I've seen a lot of blog posts and Facebook updates today in which people complain about not being "into" Valentine's Day or about it being a "Hallmark holiday." But I like it, and I don't think there's anything wrong with that! Now, I can see how if you are lonely it must be painful to have this holiday where romance is shoved in your face. But if you're in a good relationship? Why not use it as a chance to show a little extra love, in whatever way you deem appropriate? To those who say  "Why do I need a holiday to tell me to show my love? I can do that any day of the year?" I say, if you're the type who DOES regularly do nice little things for your mate or surprise them with small tokens of affection, then fine. But if you're NOT, what's so wrong about doing it on this day? I mean, I can show my son love every day and buy and make him stuff all year, but I still celebrate his birthday…
Anyway, I will step off my soapbox now and share this adorable little card my son made me: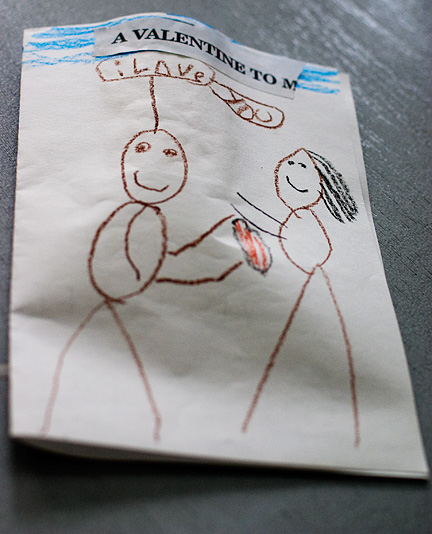 My husband surprised me yesterday by taking Parker to a birthday party (outside! Snow tubing… brrrr) and leaving me a very sweet card that included this line: "There's a fire in the woodstove, dinner and dessert are in the fridge and the curtain rods are up."
(That last bit refers to some new curtain rods for our dining room that have been sitting on the floor for weeks). I was thrilled. It was the perfect little gift. I snuggled up in front of the fire with a magazine, and our new kitty, Tangerine. (a blind, eyeless, adorable little thing we adopted from a shelter this weekend). Our 16-year-old cat, Sammy, passed away recently and we all have been grieving for her quite a bit. Tangerine (and uh, the other two cats we've also adopted this year) is no substitute, but she is awfully cute.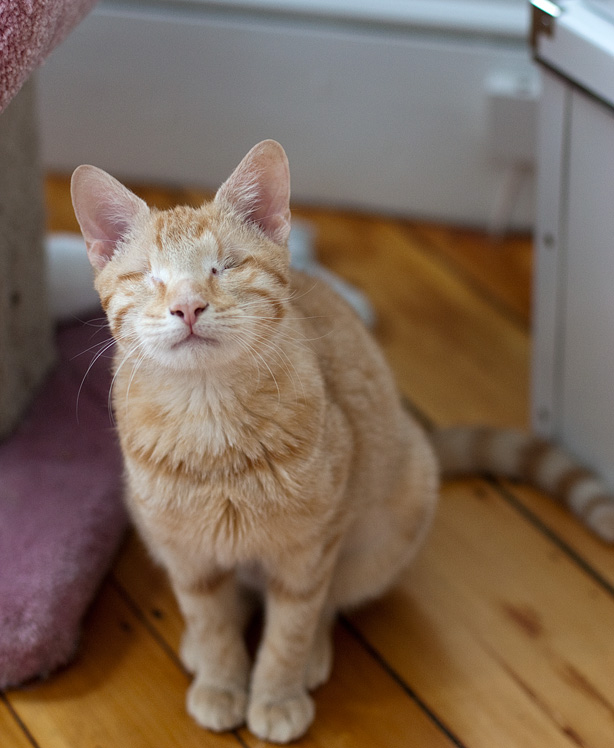 And the dessert was my favorite: