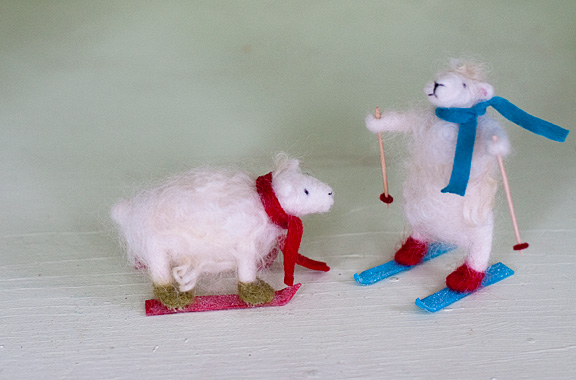 My parents took a trip last fall to Prince Edward Island, which made me quite jealous because I adore "Anne of Green Gables" and have always wanted to visit L.M. Montgomery's home. In addition to bringing me a pretty mug and coaster with Anne's picture on it (it makes me feel slightly fancy when I use it at work), my mother bough a large bag of curly wool roving at a farm they visited. "I figured you could do something with this," my mother told me. So, I decided to not stray too far from the wool's original form and turned some of it back into sheep, skiing sheep, to be precise.
My inspiration was the ski sheep kit by Wool Pets. Since I already had the materials, I decided to buy the Wool Pets book instead of the kit. The instructions there were for the sheep standing on all-fours, but it was easy enough to adapt to an upright position.
I didn't have any mini popsicle sticks to use for skis, so I made mine out of shrink plastic. Ever wondered how to make tiny skis out of shrink plastic? No? Well, someday you might, so here's how I did it.
I cut two pieces of shrink plastic that were 7/8″ wide and 6 inches long, then cut a point at one end (the point is about an inch long). This resulted in the blue skis that are about 3/8″ wide and 2.5″ long after shrinking. I happened to have shrink plastic that you can run through an ink jet printer (so I suppose I could have added fancy logos!) but any shrink plastic would work since I ended up painting it anyway.
I used an old heat embossing tool I bought years ago for stamping projects, but you can also use an oven. After the ski had shrunk and flattened, I squashed all but the tip under a heavy tile, then curled the tip upward before it totally cooled off.
I painted the skis with acrylic craft paint, then brushed them with white glue and sprinkled on some clear glitter.
I'm going to put these guys away until Christmas, and try not to feel smug about finishing a holiday project in March. Do you think I should make them ornaments by adding loops of embroidery thread at the top?
I'm also going to add them to my dormant holiday blog, just in case anyone's still subscribed over there. Obviously, these won't be a surprise, but future projects will be stashed there so any friends and family who read this blog won't see them. If you need the address for that, just leave me a comment.