REMINDER: You have until the end of the day to enter to win a free copy of Summer with Matthew Mead magazine. Click HERE to go to the giveaway post!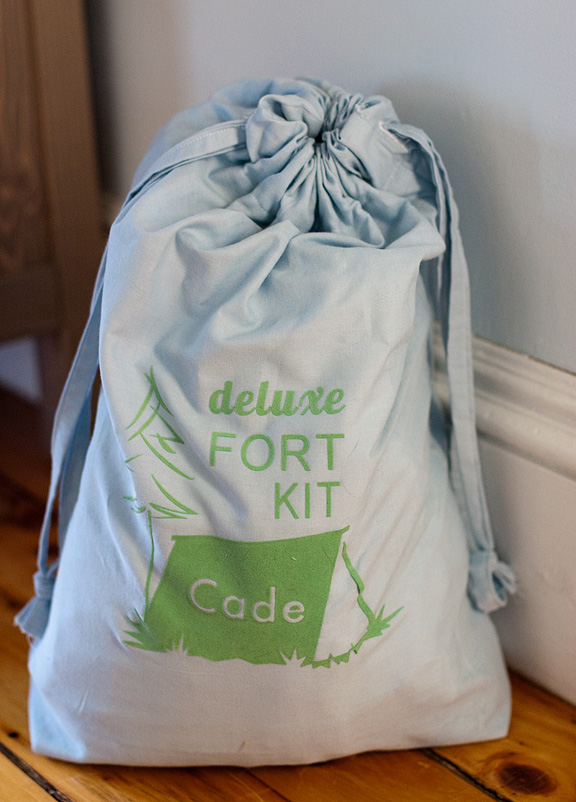 I think this might become my go-to gift for little boys (and girls, maybe!): a fort-building kit! I first saw this idea at Saltwater Kids and have added a few tweaks. The original has ties sewn to the corners and sides of flat sheets, but I decided to use grommets instead, so rope could be strung through the grommets. It turns out, though, that grommets are really hard to insert if you have weak little hands like mine, so after finishing one sheet, I switched to large eyelets instead (1/4″ opening), and that was much easier. But now I'm thinking that I could've just made button holes and that would've worked just as well.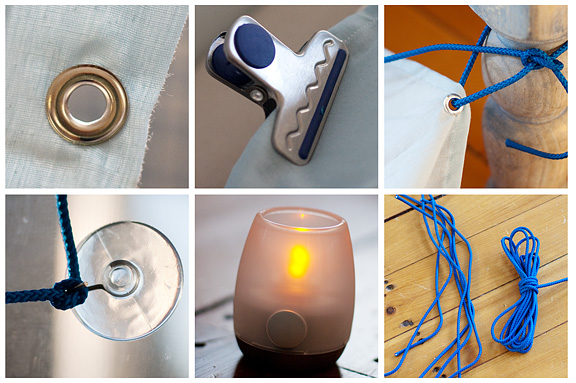 I bought a twin sheet set on sale at Target for $7.50 and removed the elastic from the fitted sheet to turn it into a flat piece of fabric. This required cutting off some of the sheet, which I then I had to hem, but I think it was worth it. I used the pillow case to make the bag, and the leftover fabric that I trimmed off the fitted sheet to make the drawstring ties. I used my Silhouette machine to make the letters and design out of iron-on flocked vinyl. I know I have been slow to warm up to the Silhouette, but I have to say, this was pretty amazing and I love how it came out!
I was a bit skeptical that this would really be any better than how we usually make forts _ just dragging out some blankets and draping them over furniture. So before sending this off to the recipient, I had my son test it out. Well, it was a big success, and in fact, there is still a fort set up in my living room right now. We found that the suction cups only stuck to windows (not the coffee table or walls, etc.) but that worked great for stringing a line across the room so we could hang the sheet over it. In addition to the long rope, I'm going to include some shorter lengths that can be used to tie the sheets to table legs, etc.
Aside from making the bag, there was more shopping than sewing or making stuff involved in this gift. I got some good deals _ the clips are from the dollar store, the suction cups were on clearance for 74 cents at Target, the little lights were $3.50 for four. The rope was $3 for 50 feet, and I have more than enough for two or three kits, which is good, because a certain 6-year-old in my house would like one.