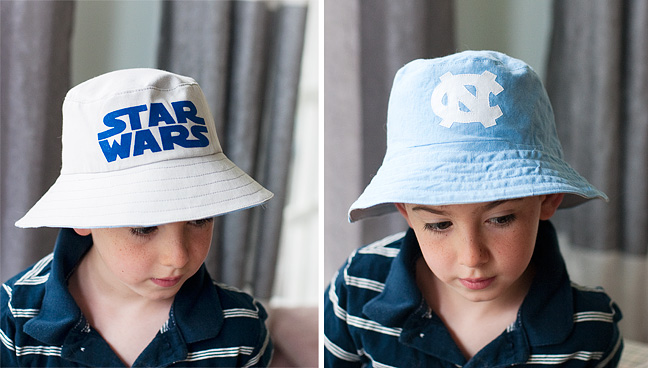 My son has just started being a bit picky about his clothes and other things in terms of not wanting to appear "babyish." The space ship motif on his water bottle, for example, was recently deemed "for little kids." So I tried to keep that in mind in making him the  reversible bucket hat from "Oliver + S: Little Things to Sew".
His latest obsession is Star Wars Legos, so that was an obvious choice. But I decided if I was going to put in the time to make the hat, the other side could reflect my interests, as well, so I added the logo for my alma mater, the University of North Carolina at Chapel Hill. I'm sure 90 percent of the time he'll choose the Star Wars side, but he also likes UNC, so maybe I can persuade him to flip it over occasionally.
I used a heavier weight twill (leftover from my whale pillow) for the Star Wars side, and really liked how it made the hat a bit more sturdy. The UNC side features a lighter weight cotton, possibly a linen blend. That caused some puckering and wrinkles but I'm OK with that, it looks more casual/beachy. As I mentioned the first time I made one of these hats, I had some trouble with the final topstitching step, so this time, I basically made two separate hats and then sewed them together, right-sides together, around the brim, leaving a few inches open for turning. Once I turned it right-side out, I did the top stitching on the brim. So there is no topstitching around the band to hold the outer band/top to the lining, but I think it's OK. If it seems to be shifting around too much, I'll do a few small tacking stitches to hold them together.
I used the Silhouette machine and blue flocked vinyl for the Star Wars logo. LOVE how that came out. I didn't have any white heat transfer vinyl so I made the UNC logo out of white fabric. I tried cutting it with the Silhouette but I don't have any of their fusible webbing. I tried ironing the fabric to freezer paper and then sticking that to the Silhouette mat but it did not cut cleanly at all. So I just cut it by hand (using Steam-a-Seam) and sewed it on.