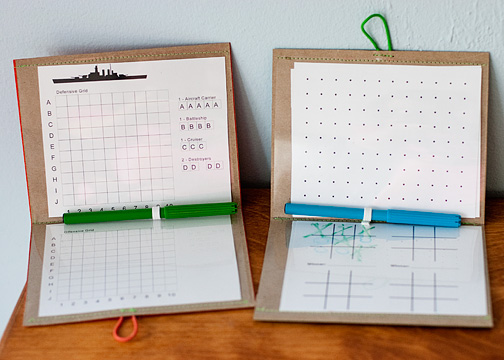 I have not packed anything for myself yet for my trip, yet I keep trying to squeeze in a few more craft and sewing projects! Here are some little travel game folders I made for my son and the friend who will be traveling with us.
I got the idea from THIS tutorial at Creating My Way to Success, and had originally planned to follow her instructions to make a fabric folder with paper Battleship game sheets. But I knew I didn't have time to do that, so I improvised with cardboard, and added a plastic sheet so the game board can be re-usable.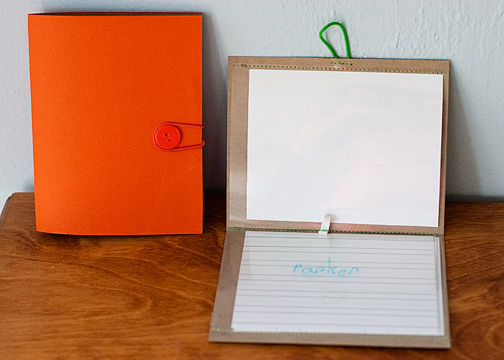 I made both of these out of one recyled cereal box. I started with a piece of cardboard from the box roughly 10.5″ X 6.5″ (I say roughly, because even when I use my paper trimmer, I can never cut cardboard or cardstock straight. It's always crooked, and even when I measure the midpoint to fold it in half, still crooked). I cut a piece of transparency film slightly smaller (No idea why I bought this film. Probably for some failed project. I'm thinking you could also use a plastic file-folder or clear document sleeve?) and sewed it to the carboard in three places: right along the fold, and along both the top and bottom. That creates two pockets that are open on both sides for the game pages to slide in and out.
I didn't add them until later, but that would have been the best time to add the little loop of elastic in the fold to hold the marker, and the elastic on the outside for the closure.
I covered the fronts (which had the cereal box graphics on them) with some adhesive cardstock I think I have had for about 10 years. I used to be like that when I did paper scrapbooking _ always hestitating to use the "good stuff" and then never using it. For the green version, I did the sewing after adhering the cardstock, but I like the orange version better. The buttons are glued on.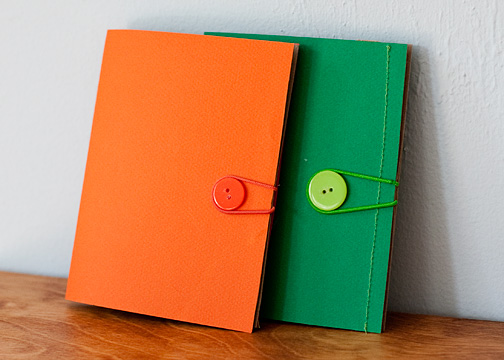 In addition to Battleship, I downloaded and re-sized pages for tic-tac-toe, two dot games and lined paper for writing. For some, I printed them back-to-back, but left some blank, in case the kids just want to draw/doodle. (Just google "pencil and paper travel games" and you'll find some).
Here are some links to the sites where I found the printable games:
Pencil & Paper Games from the editors of FamilyEducation
Battleship printable from MomsMinivan.com
Pencil and Paper Games from Today's Parent
We tried these out with just regular markers, and they wiped off fine using a paper towel or a scrap of flannel, though they smudge pretty easily. Would dry-erase markers be better?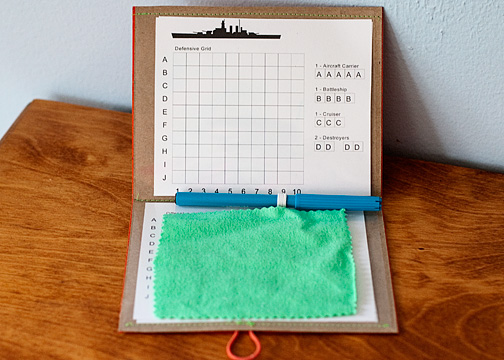 I quickly tried to teach my son how to play Battleship this morning and he was still a bit confused about following the grid to find the right box, so we'll see how that goes…