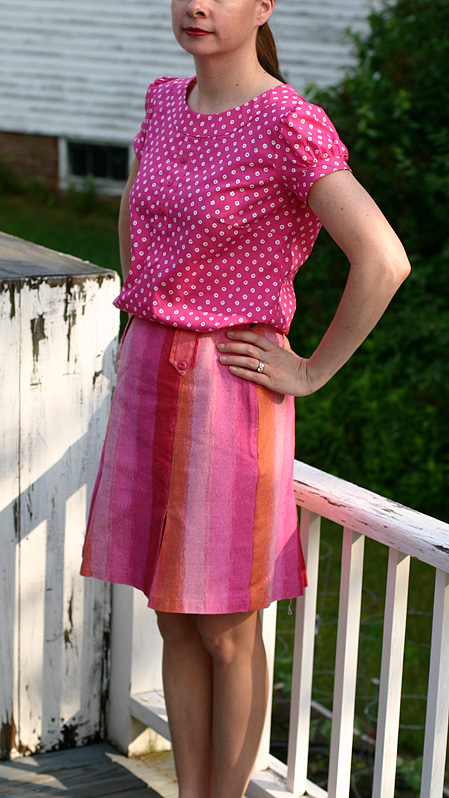 More sewing for me! This is the Lisette Market Skirt and Top, made in the exact same fabric as pictured on the pattern envelope. Not very original of me, but the fabric was 50 percent off, and I like pink! I admit, the skirt fabric is not something I would have picked out on my own, and even when I was making the skirt, I was having second thoughts, but once it was all together I do like it.
I'm not sure how much I like the skirt and top together. It's a bit LOUDER than my usual style. But I wore the outfit to work this week and got several compliments.
Both projects were fairly easy to sew, even though I have never made a pleated skirt before. The only part I wasn't sure of was the twill tape used for the skirt waistband. It wasn't clear to me whether I should be folding over the raw edges of the top of the skirt and then covering them with the tape (so both edges of the tape would be exposed on the inside), or if it was more like sewing a quilt binding, with the tape folded over. (I did the latter). I asked my husband if anything looked wrinkled when he was taking this picture, and he said no, but now I see how wrinkled the skirt is! It looks much better freshly ironed.
I made a size 8 in the skirt. My waist measurement puts me at a 10 but since this sits below the waist, I went by my hip measurement. I ended up taking in the sides even a bit more, so maybe I could've gone with a 6.
The top was very easy to make. I made a 6 and it fits well, though I wish I had made it a bit longer.