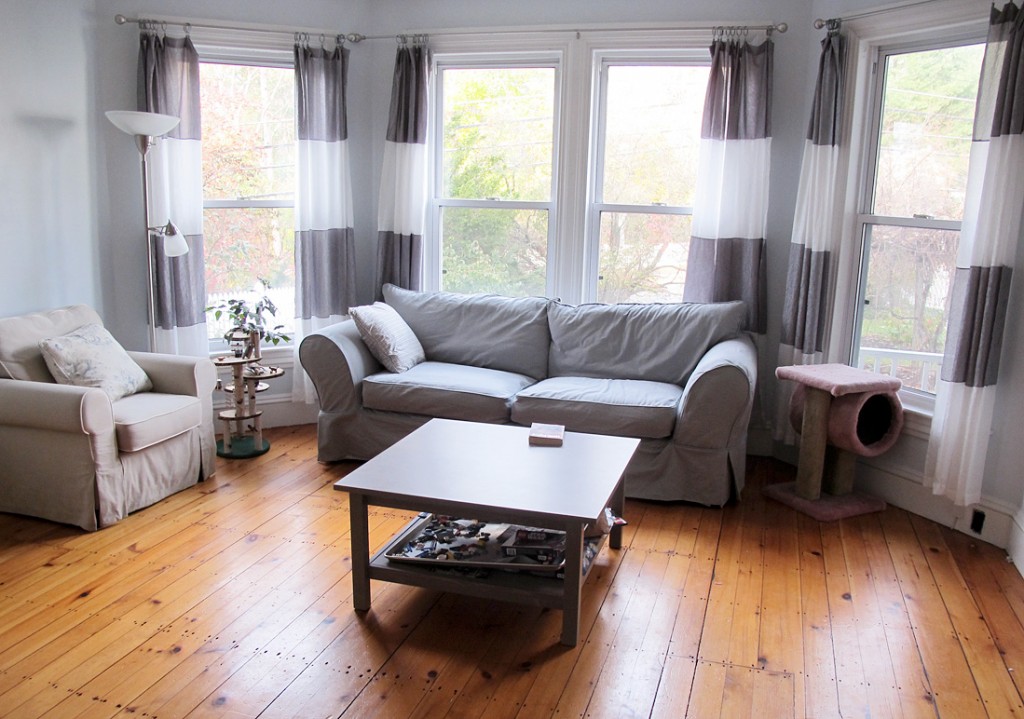 It's been almost a year since we painted our living room, and I just now finished the slipcover for the couch. I bought the fabric in January, and I think I started working on it in June. There was nothing enjoyable about this project, though I am quite happy with the results. My co-worker lent me an old book (Simplicity's "Simply the Best Home Decorating Book) that includes pretty detailed instructions on making a slipcover, so it wasn't confusing, just cumbersome to deal with so much heavy fabric. I ended up using clothesline from Home Depot to make the piping since it was cheaper than buying piping cord at the fabric store, and I'm really glad I did. The extra-thick piping looks really nice, much better than the pre-made stuff, although it took quite a while to make what seemed like miles of piping. I had great plans to finish all the seams with my serger, until about half-way through when the serger came unthreaded and then after days fiddling with it to get it threaded again, the needle broke and I had to order more. By the time that arrived, I had moved on.
I still have to make covers for a large "chair-and-a-half" and a smaller chair, though I'm not sure whether I will do one of them the same as the sofa and the other blue with gray piping.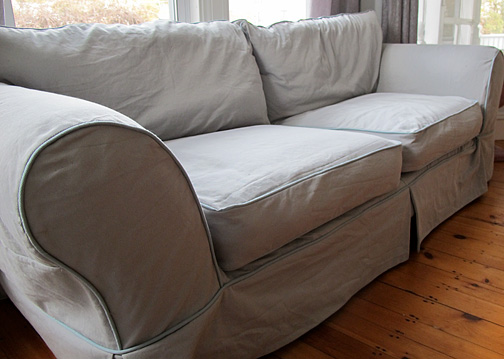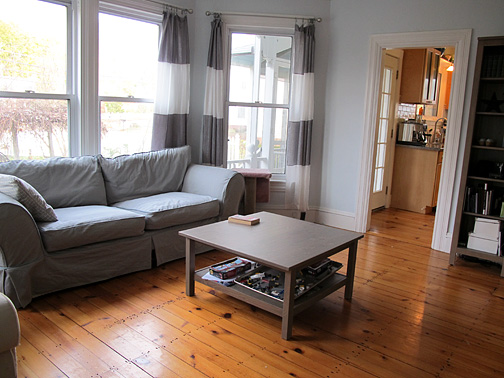 For now, I need some advice! What color/colors would you use for accent pillows? I had wanted the room to be a pale blueish gray, but it ended up being much more BLUE than I thought it would. The curtains are silver/gray and white (cheap curtains from Overstock.com… I bought white and silver, and then cut them apart and sewed them back together to make the stripes). The other furniture in the room is a a gray-ish wood tone (IKEA bookcase and coffee table). I do like yellow and gray, but I'm also thinking red or orange. Or would you keep it neutral? Any fabric recommendations?
Here's what the room used to look like. Very cheerful, but a bit more country than I prefer now. I wouldn't say I want a totally modern room, but something in between.