Thanks for all the advice re: what color pillows I should use for my sofa. For now, I'm going to go with red, because I happened to find some great, ridiculously cheap fabric. My college roommate was visiting last weekend, so we went shopping at the outlet stores in Kittery, Maine, where we found this 58″ wide Marimekko fabric (the design is called "Madison WI") for $3.95/yard at the Crate & Barrel Outlet (regularly $35.95!) So I snatched up a yard each of several different colors, plus some extra of the red.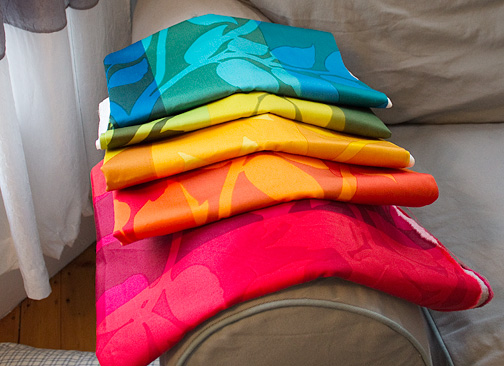 I love that it has a variety of tones, and the design has wide stripes… so I'm going to make just simple pillow covers instead of the more elaborate patchwork designs I had been envisioning. The fabric is a nice, heavy cotton, maybe a sateen? Anyway, it was cheap enough that if I don't love the pillows, I can always change them. And maybe I'll do the yellow for summer.
In the meantime, my friend and I made some purses. This is an enlarged version of the Buttercup Bag at Made-by-Rae. I wish I had made the top opening a bit wider, it seems a little cramped. We didn't use any interfacing, but used leftover gray fabric from my slipcover as the lining, which makes it pretty sturdy.