Way back in November, I bought about a dozen clear, glass ornaments at Michael's when they were on sale for 50 percent off. My plan was to come up with a few different ways to decorate them and then write a craft article for AP. But my first idea was a disaster, so I ended up just writing about one project.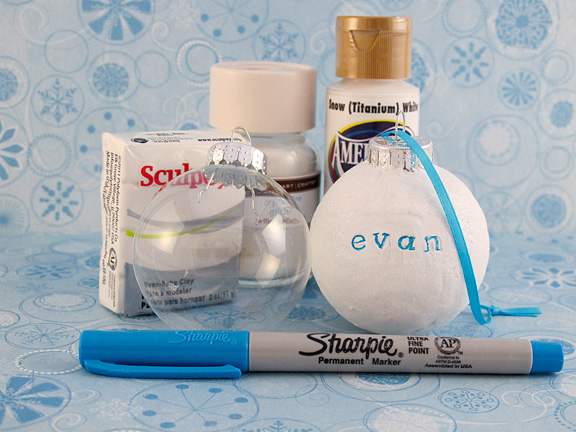 This project was inspired by an ornament my mom made me when I was 4-year-old. She used to go to a paint-your-own ceramics place, and made me this cute ornament that has a little Christmas scene inside a snowball. I decided to make a simpler version (just a snowball) by covering a glass ornament with polymer clay.
(I've seen other tutorials that produce similar snowballs, some by covering foam balls with joint compound, etc. but I wanted to be able to personalize mine by imprinting a name into the clay).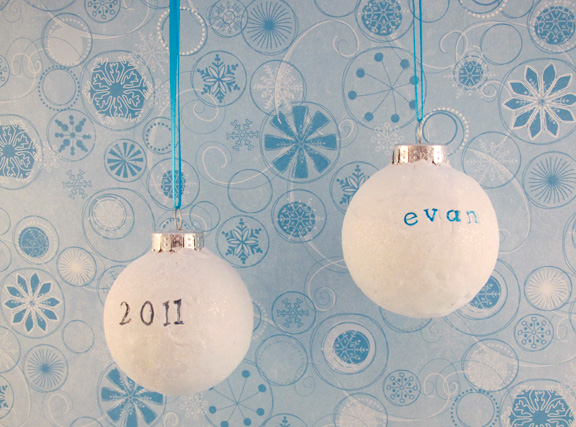 Now that I look at these close-up pictures, they look kind of messy, but from arm's length, they are quite pretty! They are covered in fine, clear glitter that doesn't really show up well in photographs.
You can read my tutorial here (NOTE: News story links often don't stay live very long. If this link goes dead, just Google "Holly Ramer" and "snowball ornament.")
(In case you're curious, here was my other idea that did not work at ALL. Maybe someone has some tips?)
My first idea was inspired by these brightly colored ornaments at Land of Nod. My idea was to paint the insides of the ornaments in bright colors, and then etch names on them, so they would be personalized, but in a subtle, modern way. I can't tell you how much time I wasted and never ended up with what I wanted.
I'm not sure what went wrong with the etching, but it came out so light you could barely read it. I've etched other things before with great results, so maybe it has something to do with the glass for these particular ornaments? I also tried a frosted glass spray paint that is supposed to mimic etching, but had the same trouble. It was so subtle, you couldn't really read the names.
And I had a ton of trouble painting the insides of the ornaments. When I used just regular acrylic paint (squirting the paint in and then swirling it around), the paint cracked and slid off as it dried. I then got paint specially made for glass, which worked a bit better but it was still too thick to swirl around. Adding a bit of water helped, and they looked great initially, but after drying, I ended up with the same cracks and streaks. So I gave up.