Usually I am so busy making Christmas gifts for other people, that I don't make too much for my own little boy. I feel bad about that, but on the other hand, often when I'm making something for someone else, he will see it and want one, so I make him one on the spot instead of waiting. This year, I managed to make him a few small things, including a Harry Potter-inspired scarf. (Note: Parker has been reading  Harry Potter to my husband, and I actually haven't read any or seen the movies. So I did a quick google/Amazon search to look at scarfs and made these rough approximations).
I actually made three scarves, because we bought my nephew some of the books and I made the scarf to go with them. And then my husband saw it and requested one for himself. I tried to talk him out of it (I think it looks a bit silly on an adult) but he insisted. I used red and gold/yellow fleece that was on sale for $2.99/yard at Jo-Ann's. I think I got half a yard of each and had plenty to make three scarves. (We also bought Parker a Harry Potter magic wand, and on Christmas morning, my husband overheard him, waving the wand over a new box of LEGOs and whispering "Build yourself… build yourself." Ha.) (A few hours later, he broke the wand, somehow by jabbing it into a plush pig… but more on that to come.)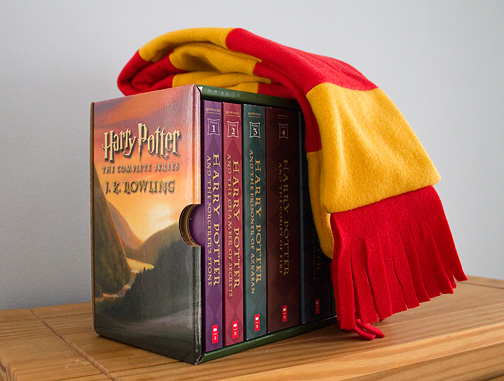 Here's my nephew with his scarf.
For my son, I also made some Angry Bird stuffed animals using the patterns and tutorials at Obsessively Stitching. I did not use her technique of sewing the appliqued bits on from the back and trimming the excess. Instead, I used fusible web/Steam-a-Seam to iron the shapes on (which is a little tricky with fleece. Some parts didn't adhere well and I had to hand-stitch them later). I also didn't have enough fleece on hand to really pay attention to which way the fleece stretched, so my birds/pig are a bit distorted, I think. But since their main function is to be hurled at each other, I didn't stress about that.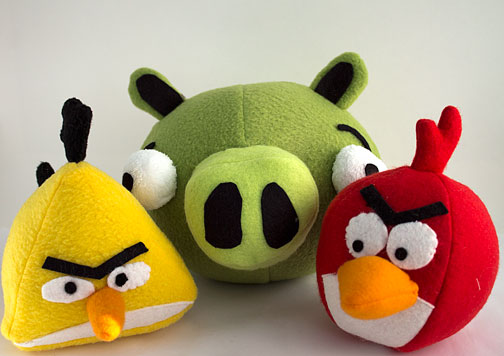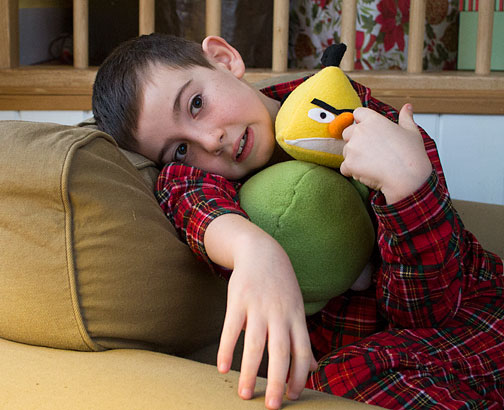 For my cousin's almost-3-year-old boy, I made this set of "portable roads" inspired by a version made by Lil Mop Top .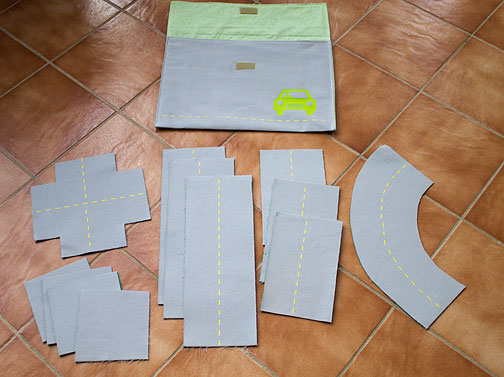 Mine are two layers of fabric (felt on the bottom, a home-decor weight cotton on top), fused together with Steam-a-Seam to make them a little sturdier (and no sewing!). I didn't have too many sheets of Steam-a-Seam so I only made a small assortment of road pieces. (The square pieces are corners) I used iron-on heat transfer vinyl and my Silhouette machine to make the yellow dashed lines on the road, and for the decoration on the fabric envelope holder. (I forgot to reverse the car image, so I guess that's Oliver driving in England!)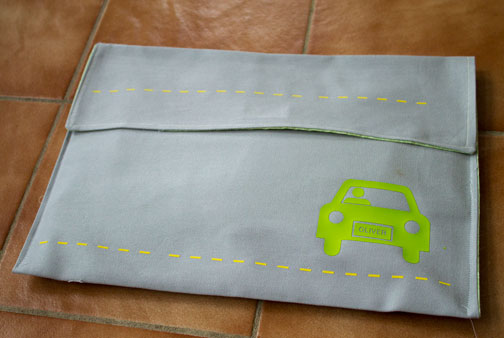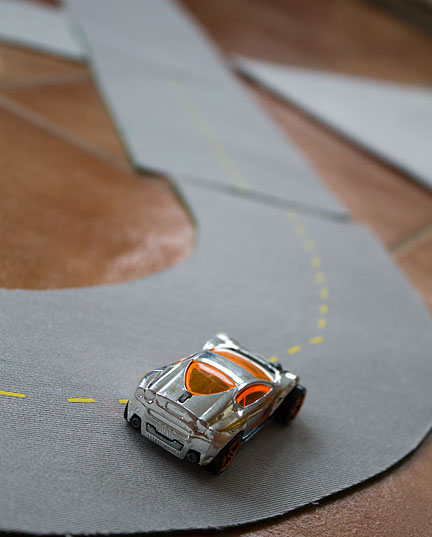 This last item isn't really hand-made, but more of a kit so kids can make their own creations. My son loves to build "robots" out of cardboard boxes, tubes, etc., so I was excited when I read about Makedo, a set of hinges, fasteners and other tools designed for turning cardboard and other stuff into toys. The prices on the website are a bit pricey, but I found a set on Amazon described as a kit for 30 kids for $60. (300 pins, 300 clips, 75 lock-hinges and 10 safe-saws.)  I see now that the price there is even lower, $48, and the other smaller kits are on sale as well. I ended up dividing what I got and giving it as gifts to my son and three other boys (with enough left over for several future gifts as well).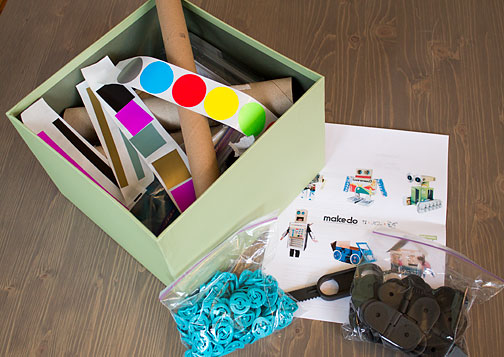 I printed some pictures from the Makedo website and some instructions (since the kit only came with one sheet of instructions) and  made up boxes with the Makedo stuff, a few small boxes, paper towel tubes and stickers I made by cutting rectangles and punching circles from origami paper and running them through my Xyron sticker maker. I had planned on spray painting some boxes silver and making stickers that looked more like robot buttons but 1) I ran out of time and 2) this was supposed to be about the KIDS being creative, right?
(After I saw LiEr's very cool series on cardboard and lighting, I really wanted to add a string of LED lights, too, but again, time was running out. But I know Parker would LOVE making his robot light up.)