I hate, hate, hate taking down Christmas decorations. Though we did put up our tree pretty early this year, which helps a bit. But what is nagging me now is that there were so many decorations I wanted to make and display that never came to be… since we painted the living room last January, none of our old decorations really worked, and I had such grand visions of making new decorations. I made a few, but might just start from scratch for next year.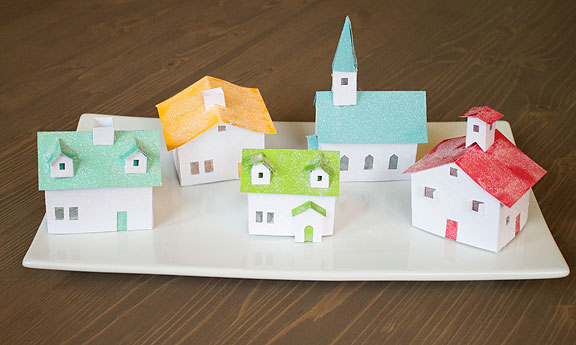 I actually did not finish this village until the day AFTER Christmas. I used the templates from Martha Stewart's Winter Village and cut them out of cardstock with my Silhouette machine. (Martha, of course, calls for printing the templates, cutting them out, gluing them onto chipboard, cutting them out again, priming and then painting). No doubt, hers are sturdier than mine, but I did not have the patience, and the Silhouette won't cut through chipboard. (at least, not the version I have). Rather than fiddle with trying to use the Silhouette's trace feature, I just used the polygon drawing tool to draw the templates in the Silhouette software.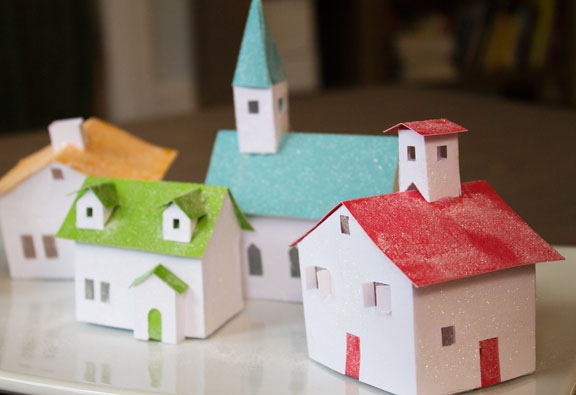 So, that made cutting them very easy. Putting them together was a little tricky. It was hard to glue some of the tiny flaps, particularly on the roof pieces. (You can see the little dormer roof on the green house is already coming loose).  Martha covers her windows with glassine, which is one of those things Martha always has laying around, but I do not. So I used waxed paper instead. To make the houses more sturdy, I cut pieces of thick cardboard as bases and then glued the houses around them using hot glue. Some came out more lopsided than others… I then brushed Mod-Podge over the buildings and sprinkled them with glitter. By this point, I was kind of sick of the project, and you can tell … the glue is a bit uneven and there are gaps that don't have glitter. I perhaps could have used a spray adhesive to make it more even.
My plan was to display this on my coffee table but my husband thinks the cats will get destroy it, and he's probably right. So it's stuck on a bookcase shelf for now.
I also made a felted wool ball garland, inspired by this one at PapernStitch, to hang above my living room windows. These are pretty impossible to photograph given that they are against a bright window. I like them, though it does sort of look like I hung up a string of cat toys. Next year, I might take it apart and add more balls, but limit it to a set color scheme… maybe just the colors in my Christmas quilt, which I have slung over the back of the couch.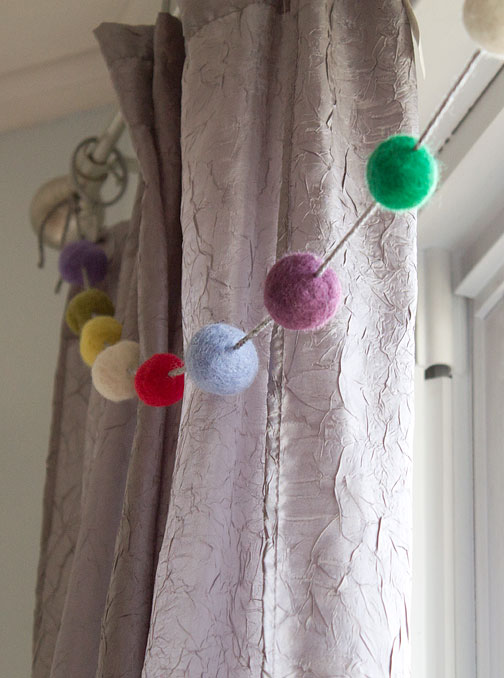 The quilt, by the way, looks very nice with my red pillow covers I made from that great fabric I got at the Crate & Barrel outlet.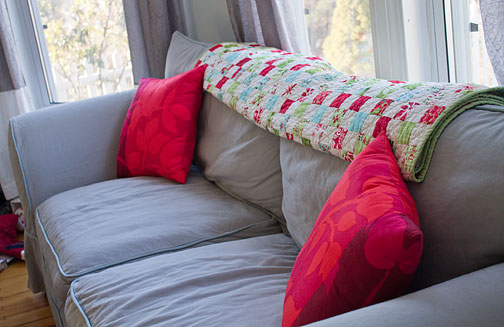 I also had envisioned a bunch of snowflakes dangling in front of the windows, but only made 1, and I don't love it.
I got the pattern/directions from here, but had a lot of trouble getting things to stick together. I tried glue dots, but the pieces kept popping apart. I ended up using thread to hold some of it together, but it looks messy. I probably should've just used tape. And then it looked sort of plain, so I added a little glitter.  It still isn't really doing much for me. Maybe if I had a bunch in different sizes?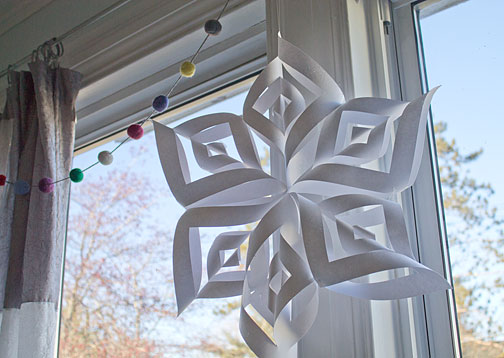 I'm telling myself that all these decorations are more "winter" than "Christmas" because I probably won't have time to take them down until after Jan. 10, the New Hampshire primary day. (for those who don't know, my day job is reporting for The Associated Press. I have spent the last six days covering Jon Huntsman and have seven more to go before the political circus moves on to South Carolina.)
That's when my new year really starts, but for everyone else, HAPPY NEW YEAR!!!!