My son wanted to play with clay last weekend, so I used that as an opportunity to finish up a project that had been in the back of my mind for more than a year. I had several leftover snowmen heads from making THESE little jar toppers in 2010, and I couldn't decide what to do with them. So last week, I turned them into little snowmen figurines.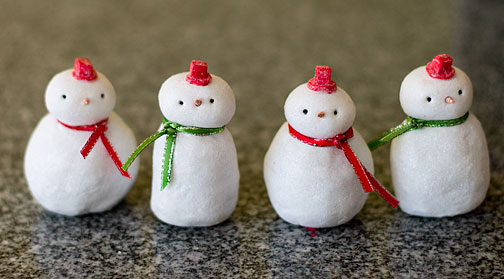 I started by crumpling/rolling sheets of aluminum foil into ball shapes and then covering them in thin sheets of white polymer clay (run through a clay pasta machine). The heads actually are solid balls of clay, but I used the foil for the bodies because that way, I could use much less clay. As you can see, some of the bodies are rounder than others. In the end, I liked the rounder look better.
Once the bodies were baked and cooled, I painted them white with acrylic craft paint (mostly because my clay had picked up bits of other colors and fingerprints and was no longer completely white. You really could use any color of clay since you're painting afterward). I then glued the heads on, and applied glitter to the bodies to match the heads. The scarves are just bits of ribbon.
Now I'm WAY ahead for little gifts to give next Christmas!
You can find the tutorial for making the snowman heads HERE, in the free 2010 Inspired Ideas Christmas magazine from Inspire Co. Did any of you buy the 2011 version? I had too many projects in the works when I saw it in December, but I might buy it now, since I seem to be carrying over my momentum into the new year!