With my husband's birthday being just a week earlier, I have to admit I don't do much for him for Valentine's Day. Plus, he's not very sentimental! Sometimes I make him little coupons for little things … I'd like to say little romantic things but they're usually boring, yet appreciated, things like "take a nap while I play with Parker" or "go get a fancy coffee at the bookstore and browse for an hour." This year, I tried to make things a little more interesting by turning the coupons into scratch-off lottery cards.
I made him three cards. Each one has three hearts, with three different "prizes." The idea is, he can scratch off one heart, and then has to decide whether to accept that prize or go for another one. But whatever he scratches last is what he gets; he can't go back and take the first (or second) prize. And since I was having trouble coming up with nine prizes (hmmm…. what does that say about me?) I threw in a few "chore of your choice" spots.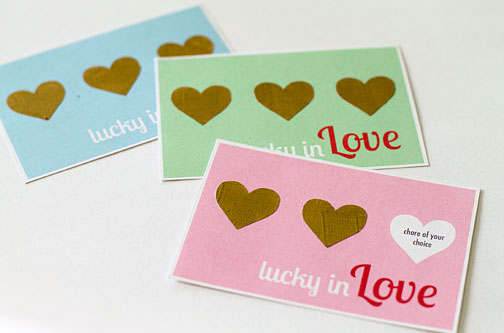 I've seen this idea a bunch of places. Martha Stewart has a version for "save the date" cards, but hers involve painstakingly painting each card free-hand. Cindy at Skip to My Lou made awesome Valentines, and used a stencil to make the painting eaiser. My version is closest to this idea by Lindsey at Our Home Grown Spud, who painted on clear contact paper and then used a scallop punch to easily cut out the shapes. My twist is that I used my Silhouette machine to cut the contact paper first (it doesn't cut through the backing paper, so you basically have a sheet of stickers that you can peel up afterward) and then I painted over the top of the shapes.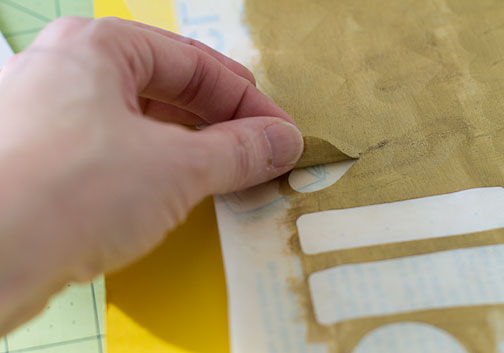 I also made a few cards for my son, though for him, each card just has one scratch off prize. (example: "watch a movie," or "stay up as late as you want reading in bed.") I'm going to let him use one a week for three weeks.
I got the free downloadable cards from One Charming Party, and just tweaked them a bit in Photoshop to cover up the "From" text on the cards.