We are getting ready for our annual weekend in Miami, where my husband covers the South Beach Wine & Food Festival. This year, I'm helping out by shooting video of some of his interviews, instead of doing the writing like I did last year. I am a little nervous about that, but looking forward to the warm weather!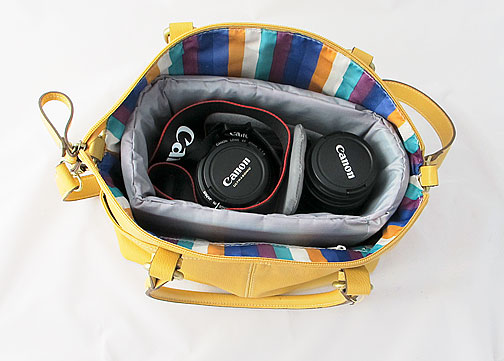 Just in time for this trip, I finished a project I've been wanting to do for a while _ make a padded insert for a large purse (from Target)  to protect my camera. Initially I decided to follow a tutorial at Lil Blue Boo, but even though I measured my bag and shortened the dimensions from the tutorial accordingly, it still turned out way too big. Totally my fault for not measuring accurately. So, I started over, and rather than do what seemed like complicated math at the time, I decided to just make a lined fabric box, with foam/cardboard in between the layers. I did not follow a tutorial, but this tutorial at Crazy Mom Quilts will give you an idea of the construction (obviously, my box is rectangular, not a cube, but close enough). And this time I was smart, I measured the inside of my existing (ugly) camera bag  to get the right dimensions.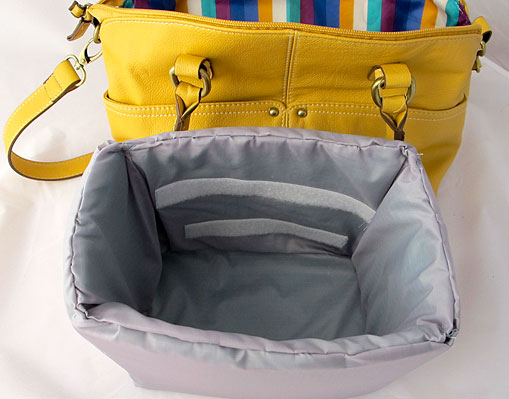 The Velcro on the sides holds a little padded diveder in place. I didn't make the divider, since I already had one from my old camera bag. This was a pretty easy project, and cheap, since I already had the ripstop nylon (purchased when I had some vague notion of making a bunch of shopping bags… back before it seemed like every retailer started giving them away).  The only time-consuming part was sewing the lining to the outer fabric around the top by hand at the end. But I was pretty sloppy with that step… this will be mostly hidden in a bag anyway.
Now I can carry my camera around to all the fancy food festival parties!