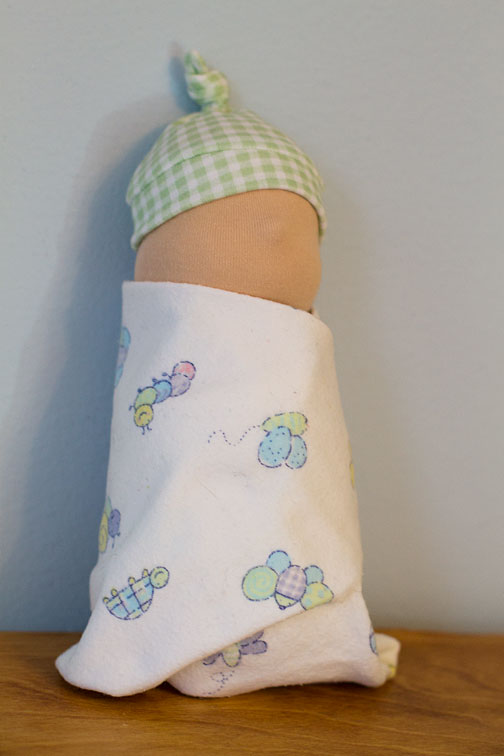 I have at least five friends who are expecting babies in the next six months or so, so I definitely am going to get my money's worth out of this adorable swaddled baby doll pattern from Adirondack Patterns. I didn't follow the directions exactly (I bought some organic cotton fabric for the "skin" instead of using a sock as the pattern calls for) and I made a little hat by reducing this free pattern by 50 percent.
This was a very simple project. In fact, I probably spent more time fussing with the swaddling blanket than I did making the  doll. (I kept tinkering after I took this photo and I think I achieved a better wrap). I was conflicted about whether to secure the blanket with stitches or leave it loose. On one hand, the future recipients might like to wrap and unwrap their baby dolls. On the other hand, the doll has no arms or legs, so it looks kind of strange unwrapped. My compromise was to add a bit of iron-on Velcro to the flannel so it will hold together but can be taken apart at some point.
The flannel actually is cut from one of Parker's swaddling blankets that I've had stuffed in a bin of fabric for almost eight years! Though I sometimes miss that chubby little baby, I do NOT miss the swaddling phase one bit!