We had such crazy warm weather last week (in the 80's, which is about 40 degrees above normal for this time of year!) that we have been dreaming a lot about returning to the summer cabin we bought last year. We bought it at the end of August so didn't really get to enjoy it last year, given all the work it needed. But I'm glad we got all that done and can just enjoy it this summer. One thing I am NOT looking forward to is sewing cushions for the porch furniture. The previous owners left us some very large, maple furniture, probably from the 1950s or 60s, that we are going to use on the new screened-in porch, but all the cushions needed to be replaced. Of course, neither the chairs nor the sofa are a standard size so I will have to make the cushions. Ugh. Not particularly difficult sewing, but tedious and still rather pricey given the cost of foam, outdoor fabric, etc.
But, here is a camp project that I was much happier about. A cheerful quilt to throw over the back of the sofa. (We bought a sofa from IKEA and I dyed the white slipcover gray because the gray slipcover cost $200 more. It was not a complete success… quite a bit of it came out blotchy, so I'm hoping this quilt will cover up the worst of it).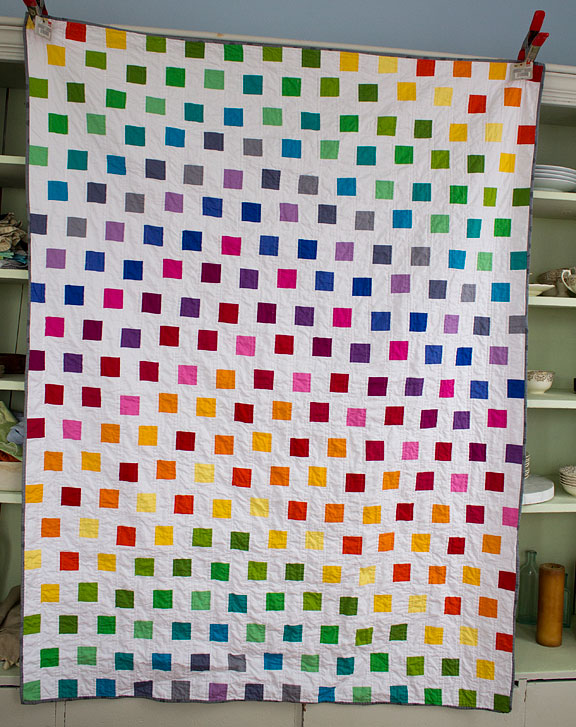 I made this using the "Modern Workshop"  free pattern from the Oliver + S blog, and while it was quite simple given that it uses pre-cut "jelly roll" strips, the directions as written result in a HUGE amount of wasted fabric. This is what I had left over after making the quilt: (almost enough to make another entire quilt. Which I might do, but I would've preferred to have known ahead of time that there would be so much extra)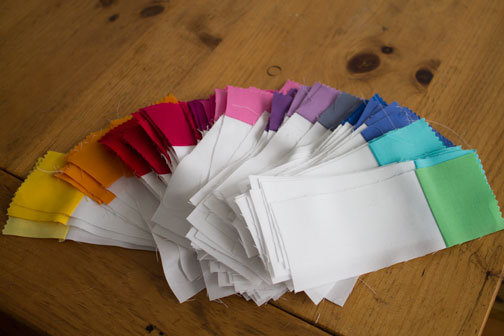 The problem is, the directions call for sewing each of 24 different jelly-roll strips to a 5.5″X width-of-fabric strip of white fabric, and then cutting the resulting strips into 17 2.5″-wide pieces. But there are only a few different colors where you actually need 17 sections.
So, if you'd like to make this quilt without wasting so much fabric, I made this chart to show how many time each color actually appears in the quilt. (Note: My quilt doesn't actually look like this because I didn't start with red as my #1 fabric, but you get the idea. If you want to have a rainbow/ombre effect, you need three shades of red, three oranges, three yellows, etc.) I did this calculation very quickly, but I THINK you only need about 2.75 yards of white fabric, and not the 4 yards called for in the directions.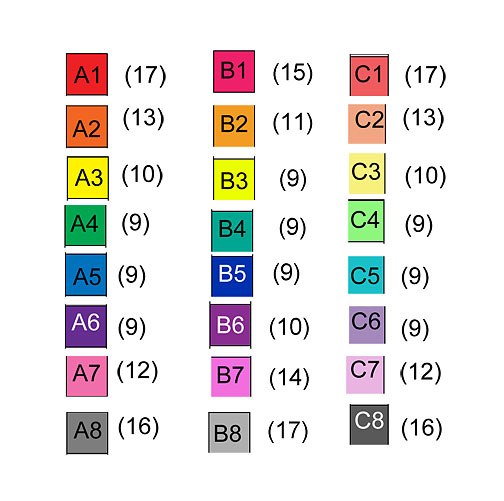 Once you have all the necessary sections, you sew the sections into long strips in color order (A1-A2-A3….A8; B1-B2-B3) etc. so you end up with 27 strips. Then you follow the diagram to add pieces to the top and bottom, so the colors end up staggered. The shaded section below shows the 27 strips, the unshaded parts are where you add the other strips. (This won't make much sense, but if you look at the original pattern, it makes more sense)
(Also, I just realized my quilt is upside down compared to this diagram. Oops!)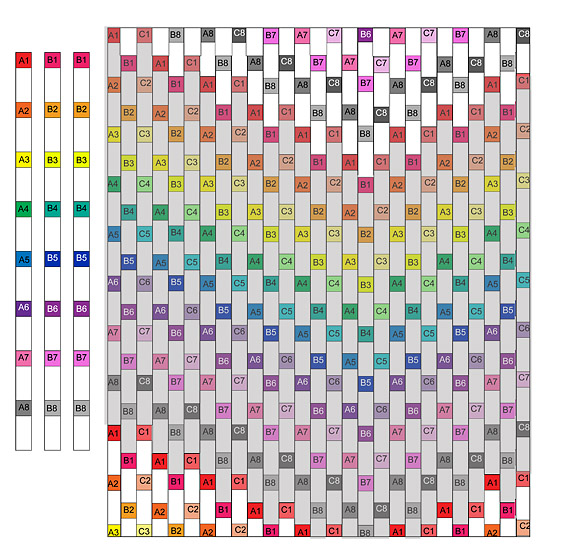 Since this quilt will be thrown over a sofa and used in the summer, I wanted it to be light-weight. So I used (pre-washed and dried) flannel instead of batting, which I think made it easier to quilt. I quilted lines roughly 1/4″ of an inch on either side of each long seam line. I was tempted to another line down the middle of each strip, too, but I was anxious to finish.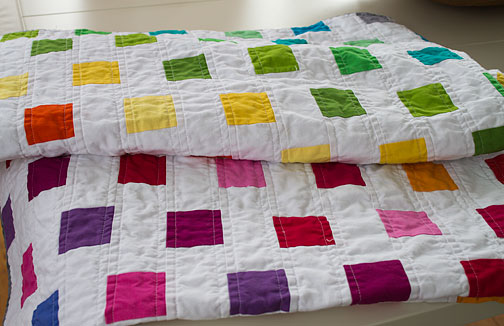 I find it easier to bring my sewing machine into the dining room for larger projects like this, which tends to attract my feline helpers.
Here's Marmalade, who likes to flop down and demand belly rubs: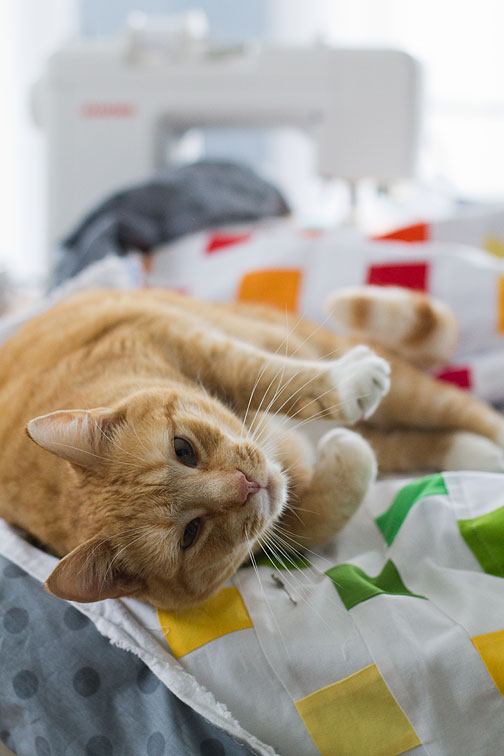 And even Tangerine, our eyeless, blind cat found her way onto the dining room table at one point: