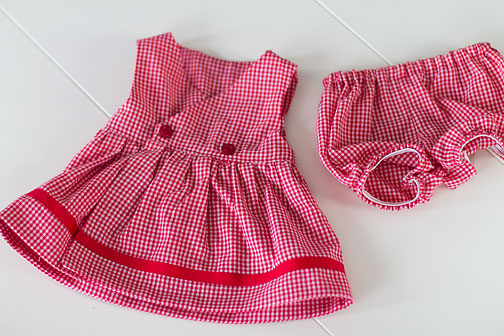 My best friend recently took her 5-year-old daughter to Babyland General to adopt a Cabbage Patch Kid for her birthday, so I wanted to make some new clothes for the new baby doll. I borrowed my own Cabbage Patch preemie doll back from my niece and bought a 1980s-era Butterick pattern for Cabbage Patch preemie doll clothes, but it turns out the new dolls sold at Babyland General are bigger _ 17″ vs. the 13″ or 14″ old dolls. But I wasn't sure where those extra inches were, and whether the proportions were the same. After thinking it over for a few days, I came up with a way to modify the patterns to fit the larger doll. Since I didn't have the actual doll to measure, I went to the Cabbage Patch Kid clothing website and found a picture of both the doll and a separate picture of just a basic infant sleeper laid out flat.  I copied the pictures into Photoshop and enlarged the doll until it was 17″ and then enlarged the pajamas to fit. I then printed the pictures of the pajamas, cut them out and used that sort of as a basic shape I could use to make patterns. The little dress just has two pattern pieces, the back bodice and the overlapping front bodices, plus a rectangle for the skirt. So I used the outline of the pajamas as a guide to draw shapes similar to the smaller pattern pieces, then followed the pattern's sewing directions. The only change I made was using a double layer of fabric for the skirt, since the fabric I used is pretty thin. This actually made it easier to sew, since I didn't have to hem the bottom edge or sides where the dress overlaps.
For the bloomers, I just used the Butterick pattern as is, and added an extra half inch to the each leg elastic and an inch to the waist.
My friend received the outfit yesterday, and she said it fits perfectly! Yay! So now I can make variations and know that they will fit. For example, I think I could just length the legs on the bloomers pattern and get rid of the elastic around the legs to make shorts or pants. It's tempting to make a bunch of clothes for my own (I mean, my niece's) doll, even though I know she doesn't really play with him much. I'm sort of embarrassed to admit how old I was when I got that doll (OK, I was 11 or 12), but it was a CRAZE. Did you have Cabbage Patch Kids? I remember we were on a waiting list for months at Toys R' Us.
I'm glad I waited to post this today. It's cheering me up after a very long, sad night … After working all day yesterday covering the vice president's latest trip to New Hampshire, I spent the entire night covering a terrible police shooting. I got home at 8:30 this morning. A rough start to the weekend, but I am off next week and we are going to spend it doing home improvement projects at our camp. Hopefully I'll have some pictures to share of that next week!