First, I have to announce the winner of my Flea Market Finds giveway. I had Parker pick a number out of a hat, and it was #1! So Lauren, I'll send you an e-mail to get your address.
I spent a lot of this weekend finishing up another quilt for our camp, this one for our bed. Though it is smaller than I thought it would be, so maybe I'll end up just folding it at the end of the bed. The pattern is "Metro Link" by Paisley Pear Quilts. I didn't follow the directions exactly because I wanted to use the charm packs (pre-cut 5″ squares) of solid colors I had bought a while ago so I figured out a way to cut those in 1.5″ strips, sewed them onto long strips of the gray background fabric and then cut them apart to the specified sizes. And I had a lot of 2.5″ "jelly roll" strips leftover from my first camp quilt. My original plan was to use up patterned scraps, but my husband wanted solids instead. I think I should've gone with my instincts!
I really tried not to pay attention to which color was going where, other than to avoid putting two of the same colors right next to each other. I copied the straight-line quilting design from Alex at teaginny designs, though hers is MUCH nicer than mine. I had a ton of puckers on the top of the quilt and after awhile I was just sick of it. And then my sewing machine was acting up and the needle kept just FALLING off. (I think my walking foot was loosening the screw that holds the needle in). But as usual, once it was washed and dried, I liked it a bit more

Here's the back: I didn't have quite enough of the polka dot fabric so I used some of the leftover solid color strips.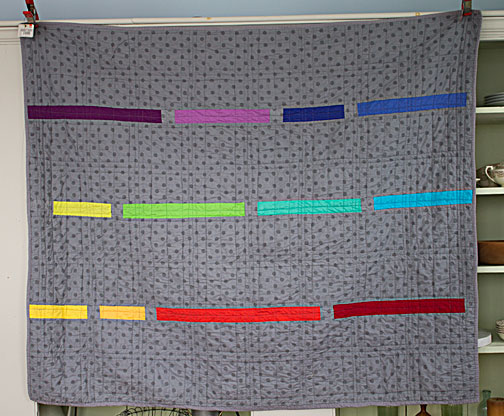 It was funny, I have been spending a lot of time practicing my knitting … but when I switched to sewing the binding on this quilt, it felt SO EASY. My hands definitely are not yet used to knitting…