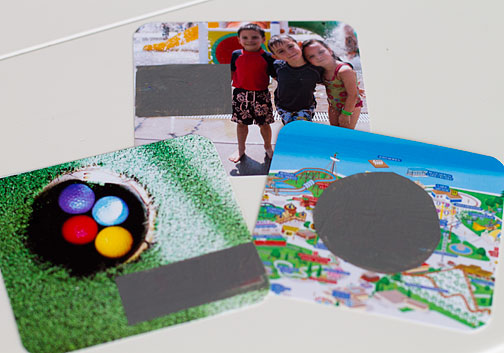 My niece and nephew's birthdays are just a few weeks apart, and for the past several years, I've given them some small gifts as well as a family membership to our local planetarium. This year, I decided to change things a bit and give them gift certificates to some fun summer activities, including an amusement park, a water park and a place that has miniature golf/go-carts/climbing walls etc.
To make opening the gift a bit more festive (no one likes to open gift cards), I made a few little scratch tickets, sort of like the Valentine's Day cards I made earlier this year. I was in a rush, so I didn't take the time to cut the shapes out of contact paper using my Silhouette… I just painted a sheet of contact paper with the paint-and-dishsoap mixture and cut out the "stickers" free-hand with scissors. When I made the previous versions, the only metallic craft paint I had was a type made for painting on glass. I don't know if that made the difference, but those cards ended up being really hard to scratch off. For these, I only used gray acrylic craft paint and dish soap, and only did two coats. It was MUCH easier to scratch off.
For the amusement park card, I printed a map of the park from the park's web site. The other two web sites didn't have any graphics that were big enough to be good print quality, so for the water park, I used a picture of Parker and his cousins at the park, and for the mini-golf place, I used a Flickr photo taken by Jenni From the Block, making sure to use a photo that was OK to download. I used Photoshop to add text with the location names, which were then hidden under the scratch-off stickers.
I gave my sister the actual gift certificates, but the kids definitely enjoyed their scratch ticket gifts!