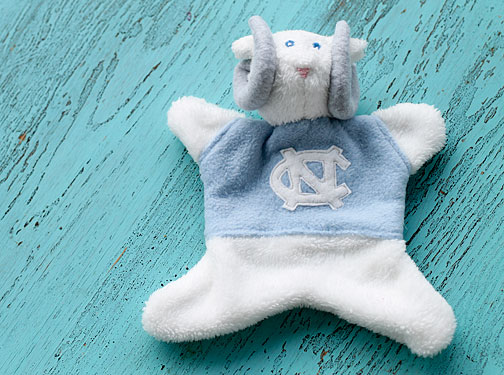 I recently got a birth announcement from one of my college friends. We weren't particularly close, but we did drive back and forth from North Carolina to New England a few times (he was from Massachusetts), which is something of a bonding experience given the long ride!
So I decided to make another Lovey Dovey using the pattern by Abby Glassenberg at While She Naps, but altered to resemble Ramses, the mascot of our alma mater, UNC.
I probably should have tried to change his face a bit to make it more ram-like, and the horns were kind of tricky, but close enough!
I'm also trying to make an effort to use my fabric stash instead of buying more stuff, so I was happy that I had everything I needed on hand for this little project.
Speaking of which, hopefully I'll be back this week with a post on Parker's 8th birthday party, which included five handmade "spy gear" bags made with leftover sofa slipcover fabric!