Who doesn't think of David Cassidy at Christmastime? What? Just me?
Let me explain: When I was growing up, my family had a handful of Christmas records that were in heavy rotation on our old turntable. The group included a 1972 Partridge Family album featuring then-teen-heartthrob David Cassidy. So, as I recently wrote in my latest AP craft story, I will always associate Christmas with him.
A few years ago, my father-in-law helped me transfer that record and a few others to CDs, which now have been transferred to my computer and iPod. It's great … I actually LIKE the scratchy record sound at the beginning of each album and in between songs. It takes me right back to my childhood. But for years, I've also wanted to do something with the album artwork on the old records, and last week, I finally got around to it.
I turned the record albums into coasters (detailed instructions are in my article) by photographing the covers (they were too big to fit in my scanner), reducing the images and printing them on photo paper. I then stuck them on inexpensive (15 cents each) tiles).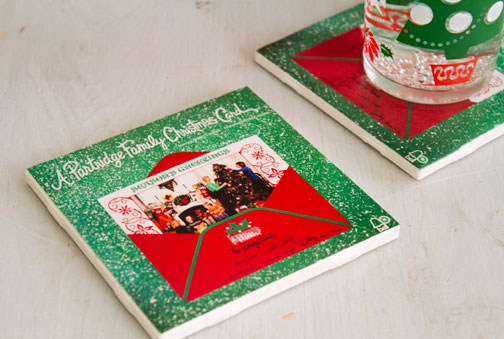 Now, I know there are many, many online tutorials that use Mod Podge to glue images to tiles and seal them. But I also read a lot of comments from people who said the Mod Podge doesn't hold up well to moisture or heat. And frankly, I find it messy and difficult to use without getting wrinkles/air bubbles or obvious brush strokes. So I used a strong adhesive to glue my images to the tile, and several coats of Rustoleum Crystal Clear Enamel to seal them. I haven't tried putting a hot mug on them yet, but I will in the next few days and will report back.
Update: I used one of the coasters with my morning coffee, it held up great! The finish doesn't look damaged at all, and the mug did not stick to the coaster.
While I was feeling nostalgic, I also finished another project that has been in the back of my head for years: doing something with my old Christmas books, specifically my a Rudolph the Red Nosed Reindeer and Frosty the Snowman Little Golden Books. I love the old fashioned illustrations and wanted to display them, so I scanned the covers and a few inside pages, printed the images and glued them to cheap 8X10 canvases. (Instructions also in the article linked above). I love how they came out. They look great in my living room, which has been a challenge to decorate given the blue/gray color scheme.