This is a bit late for a New Year's resolution, so let's call it a Ground Hog Day resolution? I've been feeling a bit overwhelmed by how much crafting STUFF I have … so many bits and pieces of things I save because I know they'll be good for SOMETHING. So I'm trying to challenge myself to use what I have instead of buying new materials for new crafts.  I have also been thinking of challenging myself to make at least one thing from each of the many, many sewing and crafting books I have (many of which were kindly sent to me by publishers through my AP craft writing work). Or at least making the things I pin on Pinterest before adding more and more…. you get the idea.
My first project as part of this plan is a Postage Stamp quilt, using this tutorial at Red Pepper Quilts. I spent a few evenings going through my scraps (I have a set of small shallow drawers where I store leftover fabric, mostly scraps and pieces less than a quarter yard, divided by color) and cutting them into 2X7″ strips. It soon became apparent that I have mostly bright colors, and a lot of polka dots and small scale floral prints. I didn't cut up any multi-color fabric, though I don't tend to have a lot of that anyway. The tutorial calls for 432 strips. I ended up cutting about 675, or roughly 75 each for each color group (I lumped brown/black/gray into one color however since I didn't have many scraps of those colors), and  I'm going to use 50 of each color for this quilt, and the rest for something else. I pretty much wanted to use up as much of each little scrap I had rather than save tiny bits.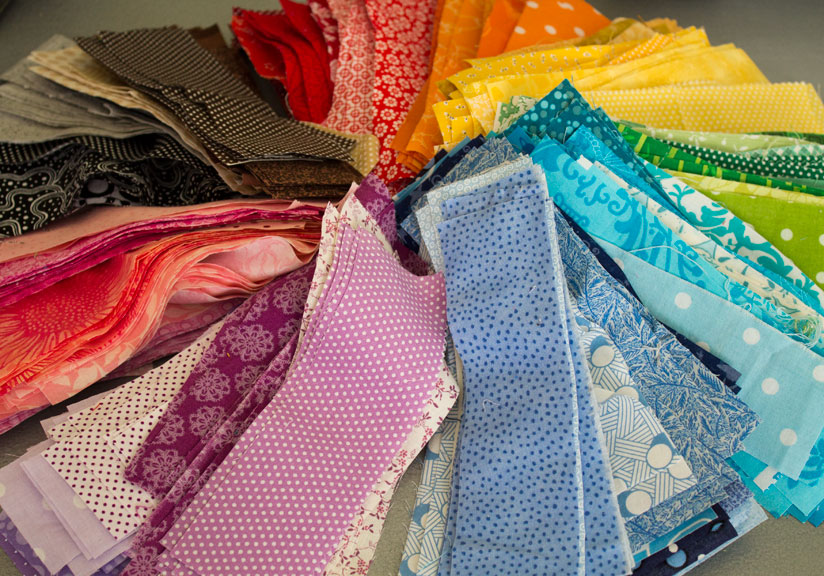 As I was cutting, I recognized some of the fabric from baby quilts I made for children who are now in double digits, so I think it's about time I used up the rest!
I knew it was going to be hard for me to not over-think this quilt, so to make it truly random, I dumped all the strips into a box and mixed them all up. I then grabbed two strips, and as long as they weren't the same color, I put them right sides together and started a pile that I could then take over to the sewing machine and strip piece. I finished that step today, so now I have 216 strips to sew together into sets of four.