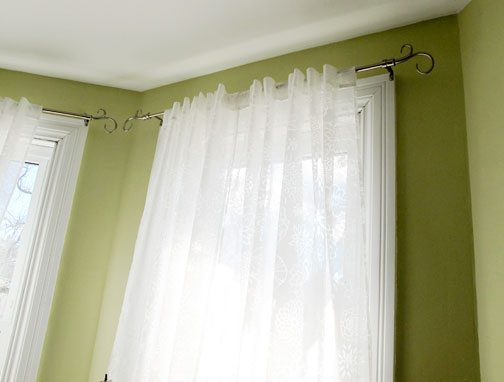 A few months ago we bought these pretty floral, sheer curtains from IKEA, finally replacing the plain linen curtains our cats have torn and shredded in our home office. And doing so seemed to spark a house-wide curtain-replacing campaign. Next up was the living room. Even though I made curtains not too long ago, I just didn't love them. It doesn't really show up in that photo, but the fabric is fairly shiny and it just bothered me, as did the fact that they probably should've been a few inches longer.
So I bought new curtains when they went on sale at West Elm. (My husband didn't like them when I showed them to him online. But it's his fault… he wanted a silly, pretentious mason jar/cocktail shaker from West Elm for Christmas. Otherwise I would've never seen the curtains).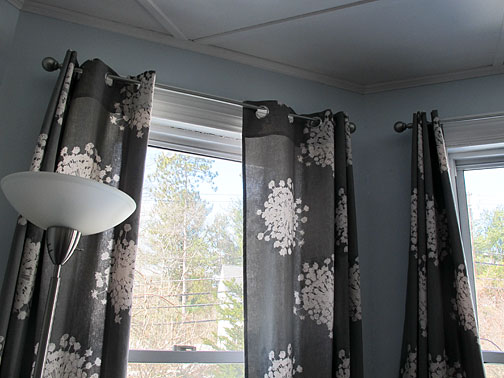 In both cases, I had to hem the curtains. The living room panels were just a few inches too long, but the office curtains were a good 18″ or so too long. So I used the leftover fabric, paired with leftover fabric from the curtains I made for our camp last summer, to make new curtains for our guest room. (Again, the cats had wrecked havoc with the muslin curtains up there).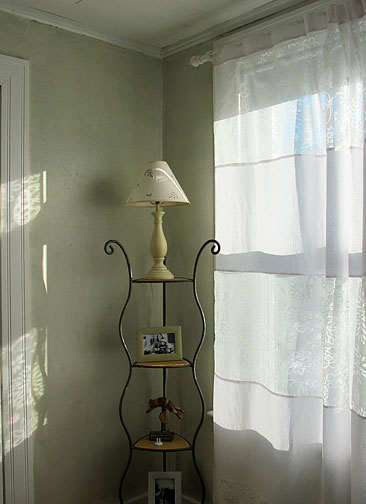 The old living room curtains ended up in our bedroom. I hung them doubled up, i.e., two panels held up as if they were one, so they would be a bit less sheer.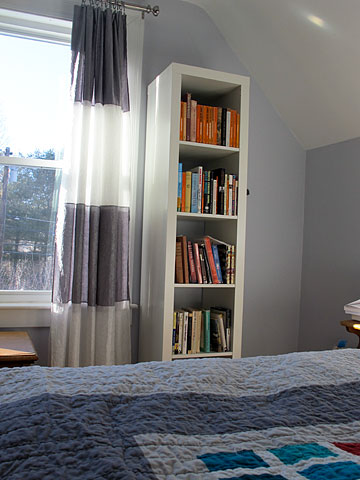 And then Parker felt left out … so we bought him some new curtains from Target to replace the faux Roman shades I made for his room a few years ago. I really liked those shades, but some of the grommets I used had torn loose and the fabric had faded. I actually didn't realize just how much they had faded until I looked back at that old picture!
All that curtain hanging made me realize two  things: My windows are really dirty. And curtains are very challenging to photograph (particularly if you are too lazy to clean up the rest of the room and take wide-angle shots). Ha!
In other crafting news, I've now knit three different mittens. Hopefully soon I will complete a pair. The first was just a test out of cheap yarn to see if I could actually manage to follow a pattern. Check! The second was a slightly more difficult pattern, using nice thick wool, that includes a flap so you can fold down the mitten top. (very handy if you're a reporter like me and need to be able to write outdoors!) But I ran out of yarn while making the second mitten in that pair, so that's on hold. The third mitten is for a loved one who was just diagnosed with Raynaud's syndrome, which affects circulation. This pattern involves incorporating bits of fluffy fleece roving inside the mitten to make what is called "thrummed" mittens … so far, it looks a bit like an oven mitt/boxing glove, but I think they will be super cozy and warm.
And I'm making progress on my "use it or lose it" postage stamp quilt! As I've been putting the blocks together, some look really great and others… not so great. But I keep telling myself it will all look OK once the whole random mess is together.