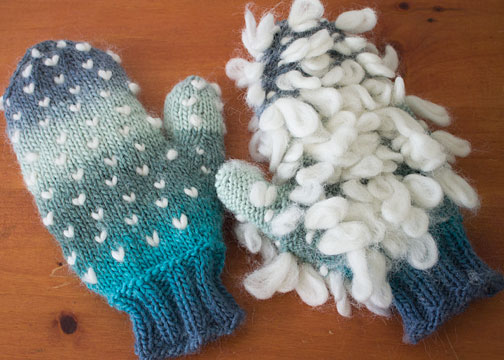 I finished my thrummed mittens for my sister! March 28 may seem late for new mittens, but we do still have a bit of snow on the ground, so they will be an appropriate Easter gift! The mitten on the right is turned inside-out, obviously, so you can see the bits of fleece roving that are knitted into the mitten.
This is my first pair of completed mittens, so my standards are low. Are they perfect? No. (The little white "puffs" of fleece on the right hand glove are much bigger than those on the left, so they don't actually match very well). But are they warm and wearable? Yes.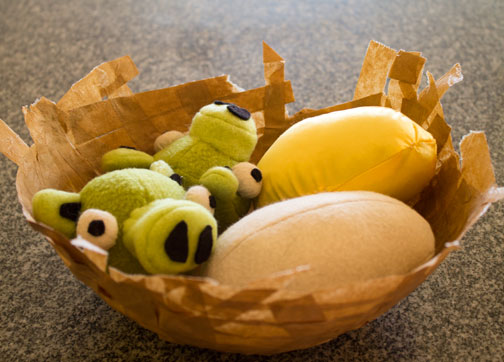 Parker wanted to do some crafting with me last weekend, and though I would've loved to make some kind of cute, pastel, Easter decorations, he wanted more Angry Birds accessories. (I previously made him a few birds and a pig using the patterns and tutorials at Obsessively Stitching). I used the baby pig pattern from there, and an egg pattern from Martha Stewart. 
You will note the eggs are rather lumpy. I was determined to make sure Parker actually helped, so I had him cut out the pattern and trace it onto the fabric, and he handled all the stuffing for both the eggs and piggies.
We also made a nest, loosely following this tutorial at AlphaMom, though we didn't cut our paper into such tiny strips. In retrospect, doing so would've looked a lot better, but Parker was thrilled with our version anyway.