My best friend has a young daughter whose late-March birthday always catches me by surprise. I have no idea why, but I always forget it's coming. So my gifts are always late. (See the cute bear carrier from two years ago, or last year's Cabbage Patch Kid doll clothes).
This year was no exception, but I'm glad I procrastinated. It turns out that the birthday girl got an American Girl as one of her gifts, so I decided to make her an outfit for her new doll. I had purchased Simplicity 3547 and another similar set years ago thinking I would make clothing for my niece's doll, but I've only ever made one set of pajamas. So this was a great chance to cross off another "use it or lose it" project and actually use some of the many patterns I bought on impulse when they went on sale. I also knitted a little sweater/shrug to go with the dress using this pattern.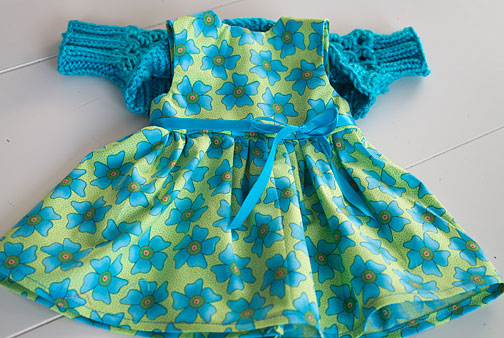 Not bad for my first knitted "garment." I had the yarn leftover from another project, so altogether, the only thing I bought for the entire outfit was the ribbon for the sash on the dress.
This is one of my niece's dolls modeling the outfit. This doll is actually a bit larger around the middle than an American Girl doll, so the dress doesn't fit exactly right, and the shrug is a bit snug. But it gives you a better idea of how it looks.