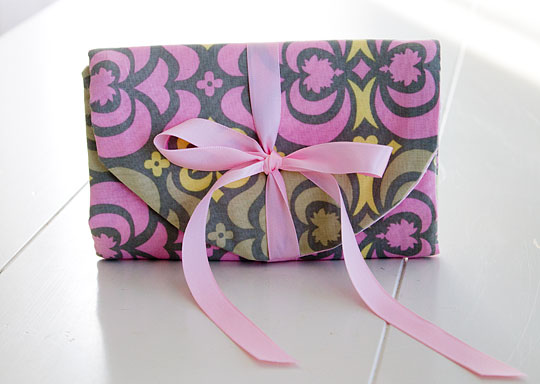 I completely forgot about Giveaway Day at Sew, Mama, Sew! until this morning, but lucky for you, I also finished up a little project last night. I actually was going to give this to my mom for Mother's Day, but instead, it will go to one of you lucky readers! (Don't worry, I will make another for mom).
This is a jewelry roll from the book "One-Yard Wonders." It has two zippered pockets, plus a ribbon that you can use for rings and earrings, to keep all your jewelry safe and organized when you travel.
(jewelry NOT included!)
For those who are new to my blog, I hope you'll come back and look around! As a bit of background, I'm a reporter for The Associated Press by day, crafter by night. Sometimes the two intersect and I get to write sewing and craft columns for AP, but my main job is covering politics and other topics in New Hampshire. My husband is the national food editor for AP, and we have an 8-year-old son who enjoys sewing as long as it involves jamming his foot down on the sewing machine pedal as hard as he can!
For a chance to win, please tell me your favorite ice cream flavor. (Mine is coffee oreo… I used to work at an ice cream shop in high school, and that was one of the flavors there. I don't come across it too often, though).
I will close comments at 10 p.m. EST Friday, and will announce the winner Saturday. I will ship internationally.
Please check out all the other great giveaways by clicking the image below: