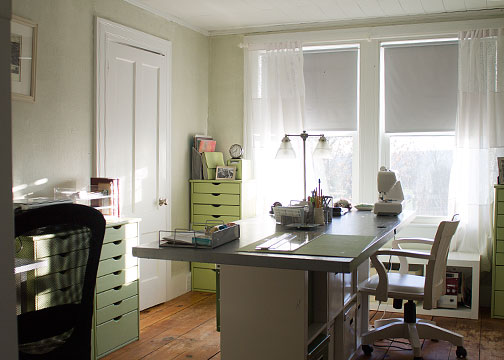 Just in time for Christmas crafting, I have a whole new room to myself! We are planning a major renovation of our kitchen for next summer, but we've already started moving stuff around now. Ultimately, we will be expanding the kitchen, turning a pantry into a bathroom, the sun room into a living room, the living room into a dining room, the dining room into a family room/ toy room, the toy room into library and the guest room into a craft room. Whew. That is exhausting just to type out! But we've already swapped some of the rooms, and so far we really like the changes.
My new craft room owes its existence mostly to the fact that my husband was sick of my clutter! We used to have a home office downstairs that included both of our computers and my sewing desk, plus all my supplies. And we had a guest room upstairs, that included our elliptical machine and a sleeper sofa, but we almost never have guests. So with the new arrangement, the elliptical machine is downstairs in my husband's office, the sofa is in the dining room (sounds odd, but it works) and all my stuff is upstairs.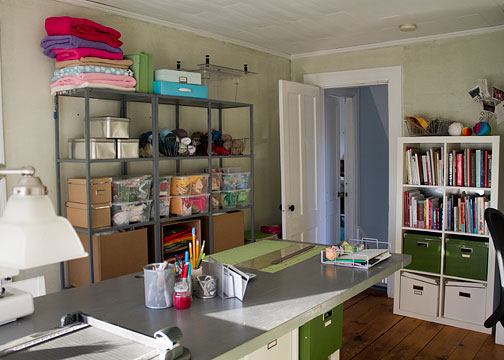 The only thing we purchased was the gray shelving and the clear plastic bins in the above picture. The shelves are the Vittsjo shelves from IKEA, which are black, but we spray painted them gray. It's hard to see in these pictures, but the shelves are glass. Otherwise, we had everything else in the old office and other parts of the house. (The table is made out of IKEA Expedit shelves topped by an old door we snagged when our AP office got torn down years ago).
The large boxes on the gray shelves are just inexpensive shipping cartons I bought from Staples (I had to buy a pack of 20, but I will use the rest for something else!) I measured wrong, however, and thought I was purchasing boxes that also would fit in the Expedit shelves, but they are way too big. I used to have my fabric scraps shoved into the green drawers, so I really like having them in the plastic bins where I can see them.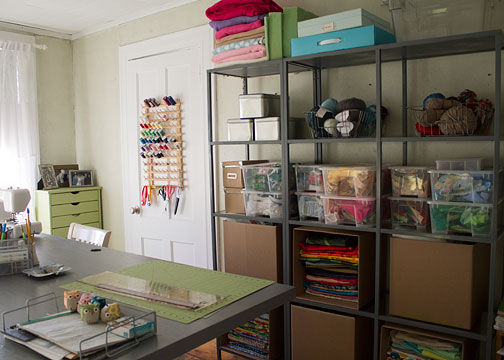 That door the thread is hanging on is my closet. Our bedroom has a ridiculously tiny closet, so the two slightly larger closets in this room are where both Jason and I store all our clothes.
I tried to be pretty ruthless in getting rid of stuff as I put this new room together, so many of the green drawers actually are empty. I put together a huge box of stuff for Parker's art teacher, who's always looking for new supplies. Some of what I had saved was ridiculous! I LOVE my new space … we'll see  how neat I can keep it as I get all my Christmas projects done!