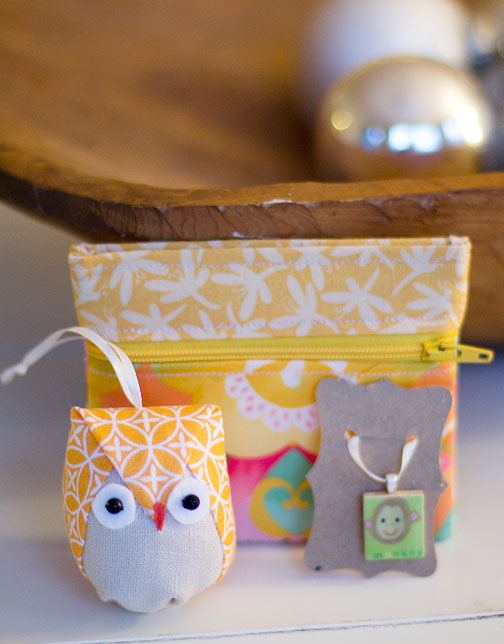 I'm a day late, but here's my offering for Sew, Mama, Sew!'s giveaway day: a collection of little girly gifts! I made the wallet using the "Snap Trap Wallet" tutorial at Just Another Hang Up. The top uses pieces of a metal measuring tape to create an opening that snaps open and closed, and there is a zippered pocket on the front.
I made a bunch of these owl ornaments using this  tutorial. I added the ribbon for hanging, but it would be easy to snip off and remove if you just wanted to stand it up on a table or shelf. And finally, the necklace is made from a Scrabble tile and a snippet of scrapbooking paper. (Sorry for the blurry picture, the lettering says "MONKEY.")
For those who are new to my blog, I hope you'll come back and look around! As a bit of background, I'm a reporter for The Associated Press by day, crafter by night. Sometimes the two intersect and I get to write sewing and craft columns for AP (My most recent column about using old photos in holiday decorations can be found HERE), but my main job is covering politics and other topics in New Hampshire. My husband is the national food editor for AP, and we have an 9-year-old son who enjoys sewing as long as it involves jamming his foot down on the sewing machine pedal as hard as he can!
For a chance to win, just leave a comment. Anything will do, but if you are feeling chatty, tell me about a memorable Christmas gift you've given or received.
I will close comments at 10 p.m. EST Friday, and will announce the winner Saturday. I will ship internationally.
Please check out all the other great giveaways by clicking the image below: